Timesheet Approval Process
Simplify employee timesheet approval processes. Apoint line managers and don't get lost in too many timsheets to approve. No micro management needed! From efficient time-tracking, to complete timesheet management, zistemo has it all. Smart. Easy-to-use. Time-saving. Just brilliant!
Design Customized Timesheet Process
Enjoy simple Employee Timesheet Approval App
Create flexible timesheet approval workflow
Implement your own timesheet approval policy.
Intuitive drag and drop invoice builder.
Apply your local date and number format.
Approve and reject timesheets on the go.
User-friendly tips and layouts available.
Optimized for Windows, Mac, phones, and tablets.
Create separate timesheet profiles for groups of users
Customize time-sheet process design, fields and notifications
Online timesheet management features you will not find anywhere else
Role-based office team timesheet approvals.
Manage time, projects, staff, and clients in one place.
Completely scalable for businesses of any size.
Our timesheet management app looks great on all devices.
Easy, interactive and handy time tools for all skill levels
Bespoke time reports on staff, projects, and budgets.
100% compliant with the highest Swiss data security protocols.
Choose The Smartest Way To Approve Timesheets
Fully Customizable Timesheet Management Software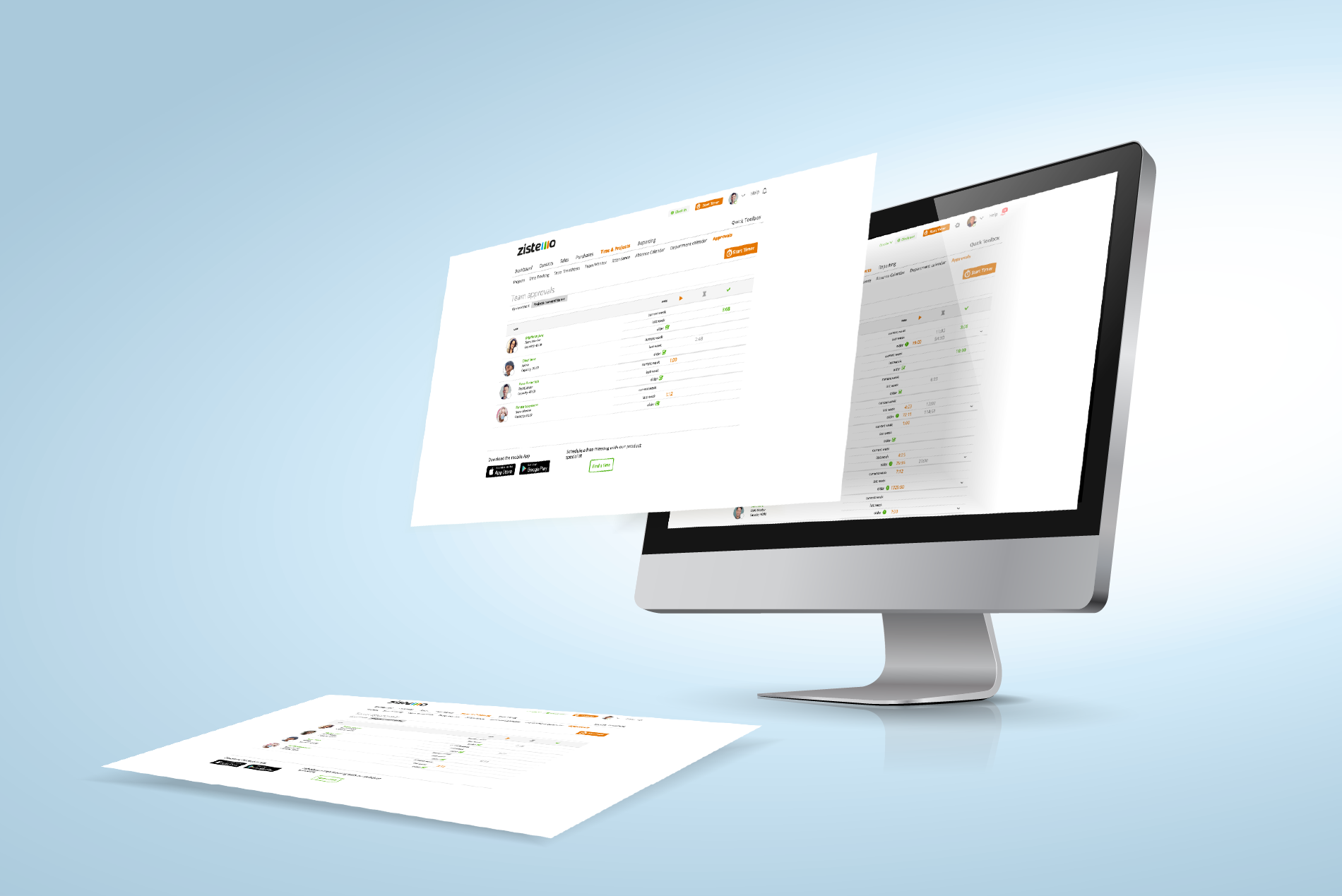 Did you know that a bad timesheet approval process is worse than no process at all? Yes, it's a real productivity killer, keeping employees stuck and frustrated. With zistemo, setting up your own online timesheet management system is incredibly easy and fast. All employees and managers can greatly benefit from a hassle-free request and approval workflow.
It's extremely simple to customize a submission and approval process in a few steps.
You can spot timesheet status immediately, thanks to the user-friendly interface.
Export timesheets to external ERP Systems or to our built-in invoice generator in no time.
Role Based Timesheet Approvals
Zistemo allows swift, level-based timesheet delegation. You decide who is in charge of timesheet approvals. Each employee can sumbit timesheets to their appointed line managers. The managers can decline, ask for edits, or accept submissions or requests with one click. Our timesheet project management software is ready to reflect any particular organizational setup. Break it down into departments, teams, subdivisions, smaller projects or as you wish.
Supporting multiple authorization levels for maximum accuracy.
Split and customize approval workflow to specific projects.
Ensure all online employee timesheet data meets guidelines, budgets, and deadlines.
100% Automatic Timesheet Alerts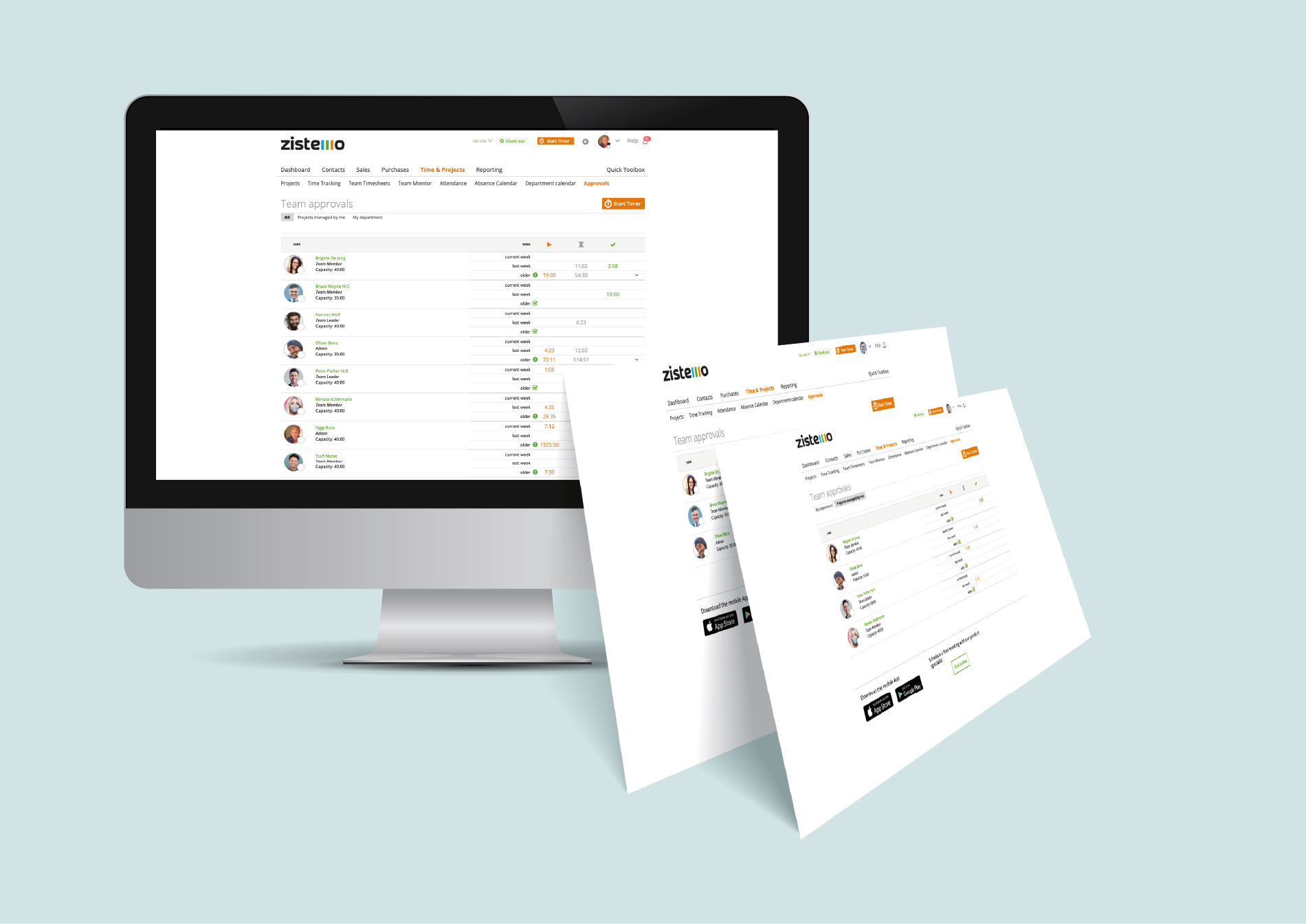 Tired of chasing down employees to complete their timesheets on time? Never let inaccurate or missing time data affect payroll, projects, and billing again. Allow line managers to track and accept weekly logs at their own pace. Has everyone submitted their timesheets on time? With zistemo's interface, the assigned timsheet approver immediately finds out and can speed things up.
Set up automatic reminders associated with the assigned users, teams, or groups.
Enjoy effortless, one-click powers for timesheet submission, approval, and rejection.
100% on-time responsiveness guaranteed via recurrent e-mails or push notifications.
---
Frequently Asked Questions about the zistemo Timesheet Approval App
Who approves employee's timesheet?
zistemo's unique web based timesheet management system allows business owners or system admins to build and personalize their own online timesheet approval system. Employee timsheet management can be perfectly adapted to business specific requirements. Each employee can submit timesheet and it will be sent straight to their direct line manager or project manager, depending on how the company's workgroups and internal structures are divided. The process of approving work timesheet is very straightforward with instant notifications sent to both parties when a timesheet is submitted for revision. Rejection, approval, or editing requests with comments are instantly sent to the parties involved, keeping them in the loop. They allow recipients to act immediately, right from the notification email, preventing time-consuming delays, glitches, or errors.
Do employees have to approve their timesheets?
Every week or any other agreed time frame, employees can review and approve their time records right from their smartphone or by signing into their zistemo web user account. In addition to this, we support another level of approval which is highly recommended. Each business owner or admin has the freedom to configure an approval process for timesheet that meets their company's exact needs. In general, approvals work on a two-tier basis that keeps both employees and their direct supervisor fully updated on each week's progress and time records. The 4-eye system prevents unwanted overtime or time-tracking errors from interfering with payroll processing or timesheet invoicing.
Can a manager change your timesheet?
Each employee is entitled to be paid for all work performed in accordance to the company's internal guidelines. However, under extraordinary circumstances, managers can modify someone's timesheets, but only to correct system miscalculations, human mistakes or timesheet submission inaccuracies. This can be done with the employee's permission in case of special circumstances, only when they cannot operate the changes themselves (vacation, illness, etc.). Managers cannot alter timesheet data to avoid paying the agreed wages for any already-completed work.
How to request for timesheet approval?
The days of "please, approve my timesheets" are long gone. zistemo smoothly automates everything in one go. Go to your current time records via the zistemo web dashboard or the zistemo Approve Timesheets App, review the time entries and submit the timesheet for approval. Once approved, you will receive a confirmation immediately and your timesheet data will be processed accordingly.
Professional, Productive, and Quick Project Management Timesheet Solution!
Don't let timesheets hold you back.
Optimize and synchronize all time-related processes online, in a few clicks. Get all the help you need to create, authorize, process, automate and bill timesheets faster, better, error-free.
Design Customized Timesheet Process