Create invoices from your web browser
Invoice templates are a big help, still they don't automate enough your billing. You can do better than pdf, excel or word. Imagine a tool that allows instant invoice creation, that automatically links and calculates all data for you. Meet the zistemo Invoice Software. Get ready to fully speed up your billing process. The perfect solution to professional & unlimited invoices is a click/tap away!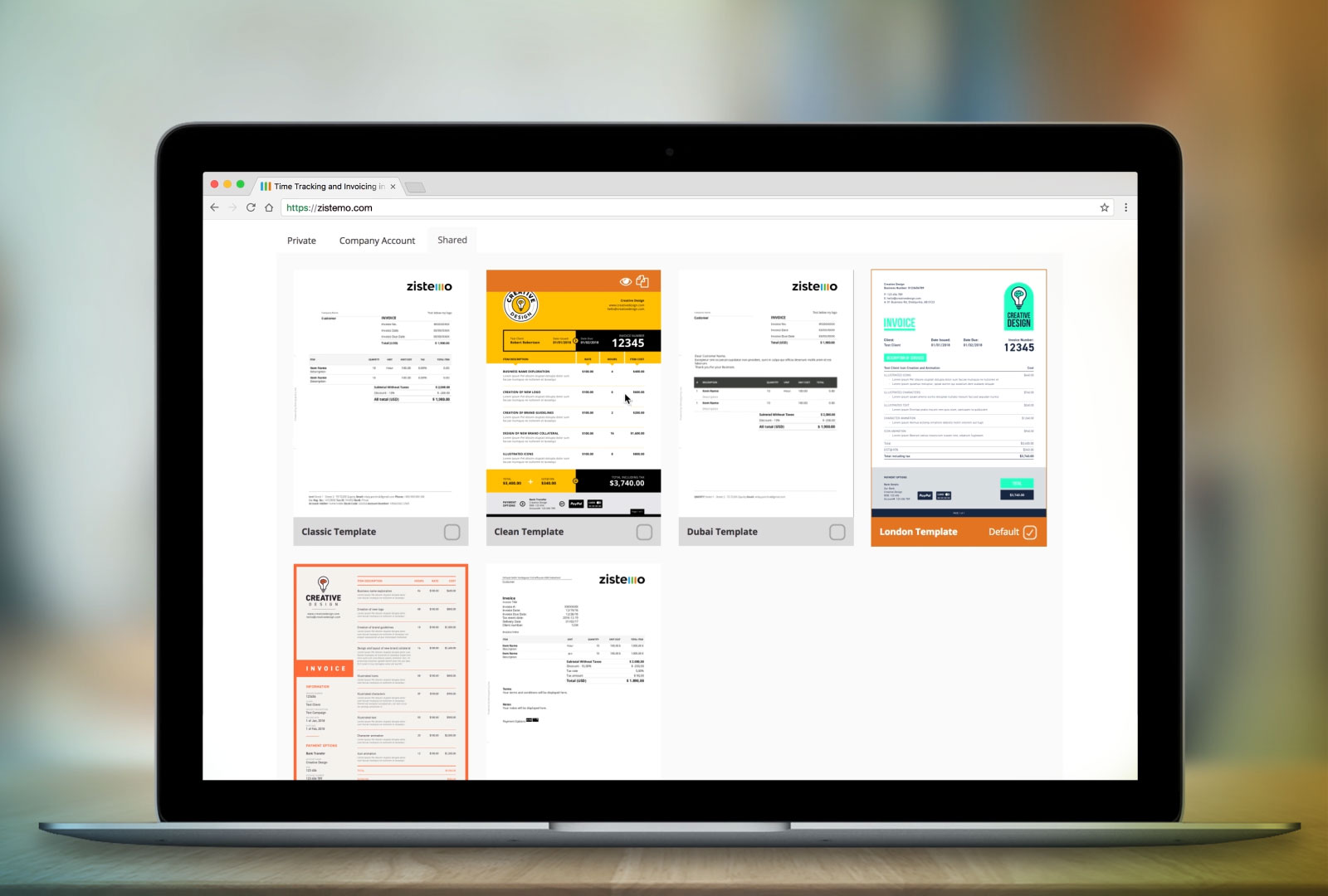 Every template that you download is
100% FREE.
Very easy to edit and send. No advanced skills needed.
100% customizable – fill in the templates with your invoicing data and you're done.
Nice, professional and printable.
The smartest free invoice templates!
These FREE templates will save you time and speed up payments.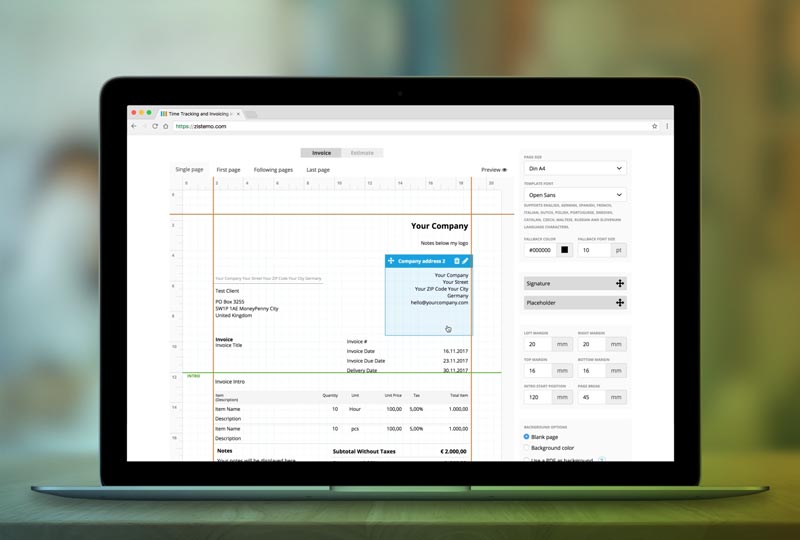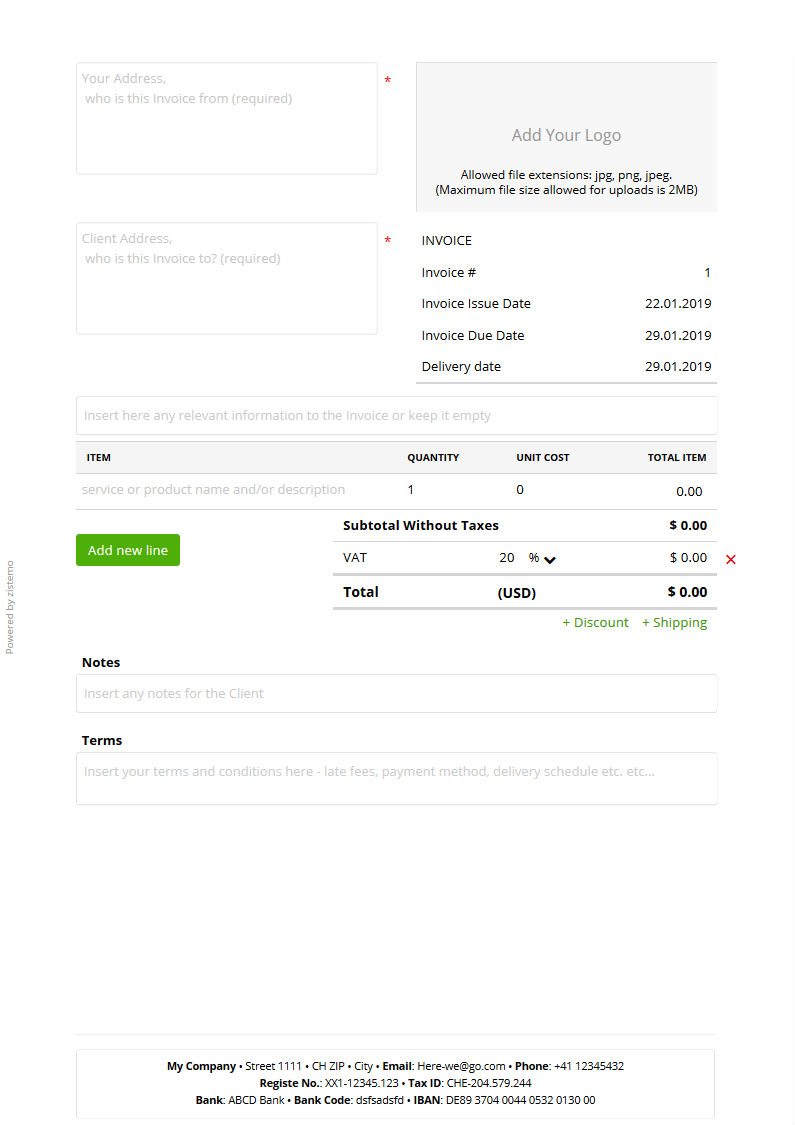 Upgrade your business management tools: why join zistemo today?
Streamline invoicing with a speedy Recurring Invoicing feature.
Get notifications about your business straight on your phone.
Invoice creation with integrated Invoice History at your fingertips.
Multiple apps, features and online tools, all synced in your account.
Plenty invoice formats and sizes to choose from. Click, Click. Done!
Save time: user-friendly & 100% interactive invoice numbering tools.
No longer chasing payment! Quick & easy to set up payment reminders.
Receive activity & invoice updates in real time, via Slack.
Adios, manual entry! Turn estimates, expenses & timesheets to invoices.
Customize our beautiful invoice templates with your branding.
Personalized intros for your invoices, estimates and other business docs.
Effortless invoice editing, export, sending out and follow up.
Invoices get calculated automatically. No errors. No time wasted.
Frequently asked questions about invoice templates
What is an invoice template?
An invoice template is a document that will save your time when creating invoices. You can print it, download it and save it to your desktop, laptop mobile or tablet. Then each time you have to send an invoice to your customers, you simply fill in the template and send it. The advantage is that you don't have to create an invoice from the start, all over again. The disadvantage, particularly for classical templates (word, pdf, etc.), is that there's still a lot of manual entry involved.
What information is needed in a free invoice template?
There are some basic details any invoice template must have, such as: business name and addresses for both you and your clients; contact names; the unique invoice number; a list of the products or services you are invoicing your client for and their price; issue date and due date; the total invoice amount; payment terms. Also, it's very handy to include: payment details (bank account details, PayPal accounts and other methods). In case your company is VAT registered, you have to add your VAT Registration Number and the VAT amount for each invoice/product.
What makes a free n invoice stand out?
Make sure your invoice template layout is simple, neat and clear. Try to customize and adapt blank invoice free templates as much as you can. Use your company logo to make it look more professional. Don't overdo it. In the end, it has to be easy to read and meet all legal requirements. The simpler it is, the easier it would be for your client to review it and pay it on time.
Is the pdf, word or excel free invoice template the only way to speed up invoicing?
In the Internet empowered era, pdf, word or excel invoices are not enough. Invoice creation and follow up has started to move online. Many software solutions and cloud-based apps offer painless invoicing tools that help users create and send invoices with a few clicks, without downloading or printing anything. Everything is digital and is synced online, on the cloud, which is a big leap ahead for business automation.
Automate invoicing then upgrade your business!
Invoicing is just the beginning.
If you're serious about no longer wasting your time struggling with manual entry or manual calculations, meet our business solution. Get your projects, invoices, budgets, reports, timesheets, project tracking and expenses organized. Sync them all in just one place: your zistemo account. All your business in one tab!
Create custom invoices like a pro