Power up team collaboration! Professional team time tracker is here
Looking for a cool team time tracking app? The smartest employee monitoring software or perhaps the best team collaboration software? zistemo is all of the above, and more: invoicing, project tracking, budgeting PLUS project, client and timesheet management. All the tools your team needs are here. Organize and run your business on-the-fly.
The zistemo Team Time Tracker
Our team tracker features a wide range of tools and functionality that will boost performance and productivity. Master the art of simple employee time tracking with:
Team Monitor and Team Calendar designed to automate live, pro-active team management.
Time tracking auto reminders for smooth timesheet approval.
Auto time roundings will adjust time entries on projects.
A hassle free timesheet flow for all team members. Time entries can be edited, submitted and approved on the move.
Nice, slick monthly/weekly team timesheets, time reports and team performance graphs.
Clock in, clock out - it's how you start tracking all billable hours or non-billable time
Smart, powerful time reports
Behind any timely business decision there's a nice-looking report. Get your teams organized with advanced easy-to-use time reports, filtered by clients, projects, tasks or users. Detailed time and performance reports will give you a visual real-time snapshot of where your team's time is going. Plus, an accurate overview of projects, budgets, deadlines or team progress. See the bigger picture, master team collaboration so you can focus on the future.
Team time tracking meets Timesheet Invoicing 4.0
Take team time management further, from your mobile app! Meet zistemo Timesheet Invoicing 4.0. Turn time entries into invoices within seconds. You can even choose between 3 different formats: medium, long or short and many invoice templates. It's magic, really! Forget Excel grouping or other fiddly calculation. zistemo does all the smart linking of your business data. Start saving more time! Join zistemo today.
Get The Best Time Tracking Software
Start for FREE or check our Pricing page to select the best paid plan for your team.
---
Team Time Tracking FAQ
What is a team tracking software?
A team tracking software is a set of crucial monitoring and time tracking features used by companies and freelancers. It helps to simplify project management, accelerate performance, track employees work hours and boost team productivity. Its integrated tools can be a team time tracking app or tap and go timers. Added to other team collaboration tools, it streamlines and simplifies team management. Team members will focus more on their tasks rather than waste energy by tracking time manually. Time tracking tools eliminate the struggle with work time tracking, timesheet approval or filling out spreadsheets. A team tracking software also is a great management tool. It shows team leaders if projects are completed on time and on the budget. In other words: it's a great tool for keeping profits and client satisfaction as high as possible.
How to track team progress?
There are many ways to track team progress. You can struggle to do it manually, by creating spreadsheets and using formulas. Or, you can optimize and use a smart team collaboration software, with an integrated team time tracker. Such tools are linked online to offer user-friendly dashboards and customized time reports. Your team can work from anywhere in the world. As long as they track their time, via the desktop app or mobile app. Even if they work offline and then log, working hours, all time entries will automatically be updated on the cloud of the team time tracking software you use. Once you log in, everything your team did is there, and, for instance, it just takes a few clicks/taps to build time reports which serve as team progress trackers.
How can I track my team's time?
It's easier than ever to track your team's work day thanks to time tracking apps, timers and team collaboration software. You can set up unlimited projects, create and assign tasks to different team members. Each time they work on a specific task, they will start a timer on their phone, laptop or desktop. They press "pause" or "stop" when they take breaks or move to other tasks. All time logs are synced in real-time with a team tracking software or a team collaboration software. Once you log in, you'll see a dashboard with all the time entries so you'll instantly know who worked on what and for how long. A good time tracker, like zistemo is compatible with project management tools like Jira, Asana or Trello and they are working on Android and iOs.
What does time tracker for teams do?
A time tracker for teams is the key to a better team collaboration:
Streamlines workflows and minimizes downtime.
Saves the time wasted with manual time entries.
Simplifies the timesheet approval process.
Allows live notifications and interactive activity tracking.
Guarantees accurate team time tracking and time invoicing.
Increases productivity and upgrades time management for teams.
Reduces time-consuming sorting of project paperwork.
Gives teams user-friendly tool, designed for any mobile device or desktop.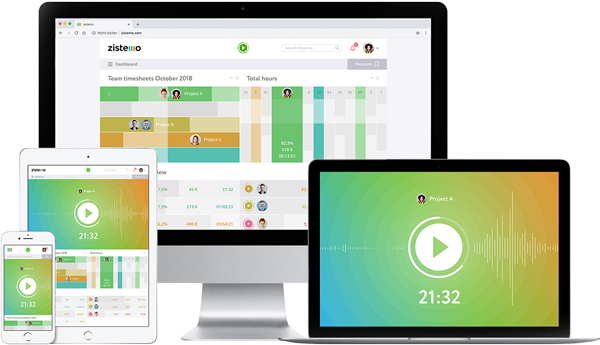 Clear & efficient team collaboration
With zistemo all-in-one business management tool, you master simple team time tracking and team collaboration. Forget downtime. Team members can use the zistemo app to log hours from any device. Next, timesheet submission and approval is completed with a few clicks. Any doubts about tasks or time entries edits can promptly be discussed via Slack. Everyone can see live who is working on what, who's on a break or who is taking a day off.
The smartest team Time tracker. No spreadsheets. More fun!
Smarten up team collaboration and enjoy simple time tracking for teams! zistemo boosts your team's super powers with professional yet easy-to-use tools, including: a tap and go timer, live notifications via Slack, PLUS a seamless timesheet process. All smoothly synced and linked in one place:
your zistemo account.
Start your FREE trial now