Switch to Flex Time in no time!
Set your business on autopilot with your work time models. Quicker. Easier. On the cloud.
Start 14 day FREE trial
Upgrade your business with the best flextime policy!
Take a leap into the future of working with our interactive, user-friendly time and attendance tools. Manage as many flexible working plans as you wish. Try them and polish them until they suit you and your employees. All on the cloud, synced and optimized for electronic devices of all shapes and sizes.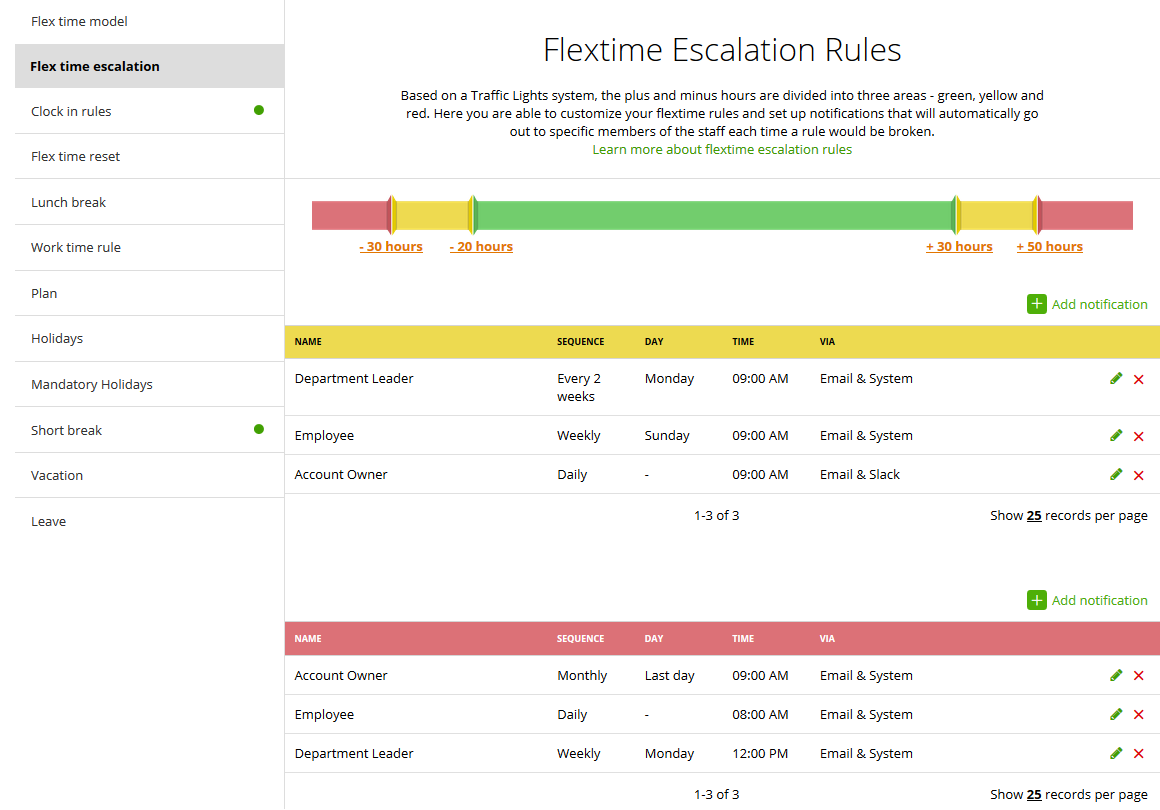 Escalation Rules that work like magic
Our hassle-free Traffic Lights design made the flextime policy very easy to track and handle. For instance, excessive accumulation of overtime or absences can be spotted right away – they'll be in red.
Customize your flextime rules within seconds.
Set up who receives notifications for broken rules.
Manage shift swaps on the go.
Trace and prevent unproductive or costly work patterns.
Intuitive and automatically linked with a powerful suite of time features, attendance management, and time cards — this is Business 4.0 at its best.
Employee Time Tracking on any device
Forget paper timesheets. Give your employees the freedom to log hours from their phones. Our cool time clock app tracks working hours on the go and allow supervisors to:
Instantly notice earliness-lateness trends.
Get notifications about excessive overtime or absences.
Customize core time and flex time rules on the go.
Everybody, from morning people to night-owls can now deliver great work at their most convenient place and time.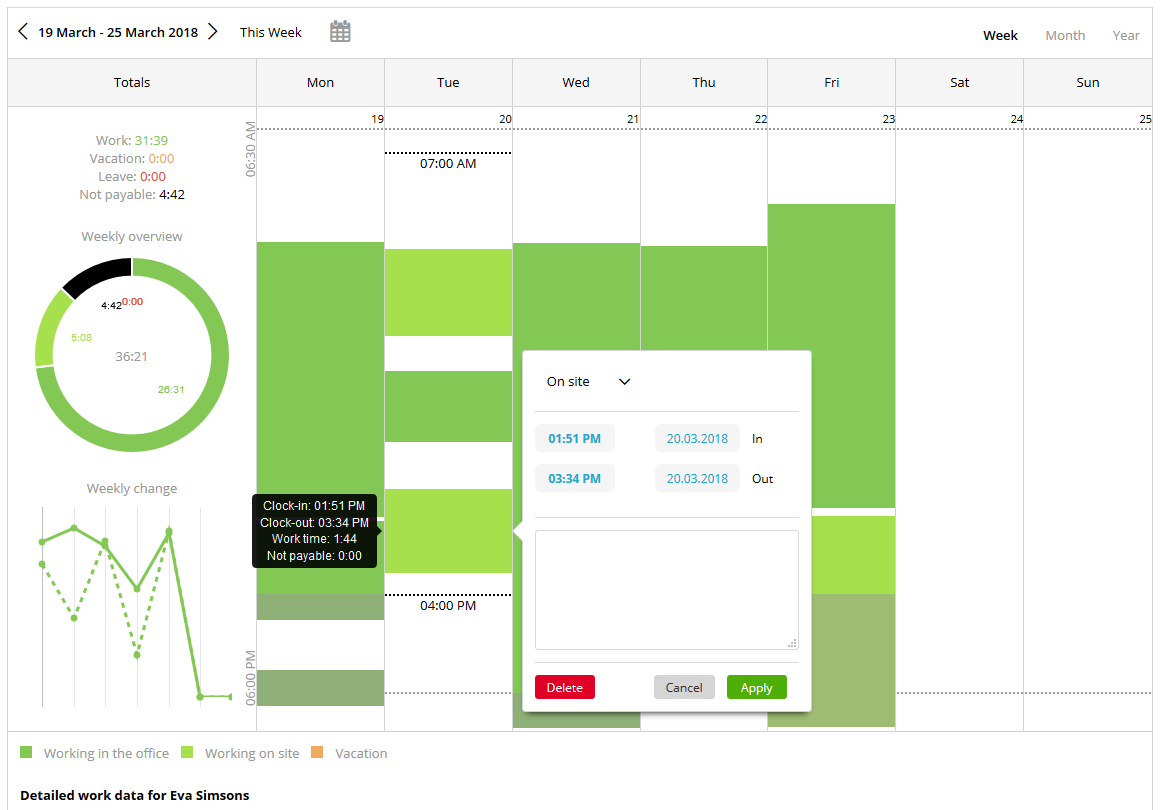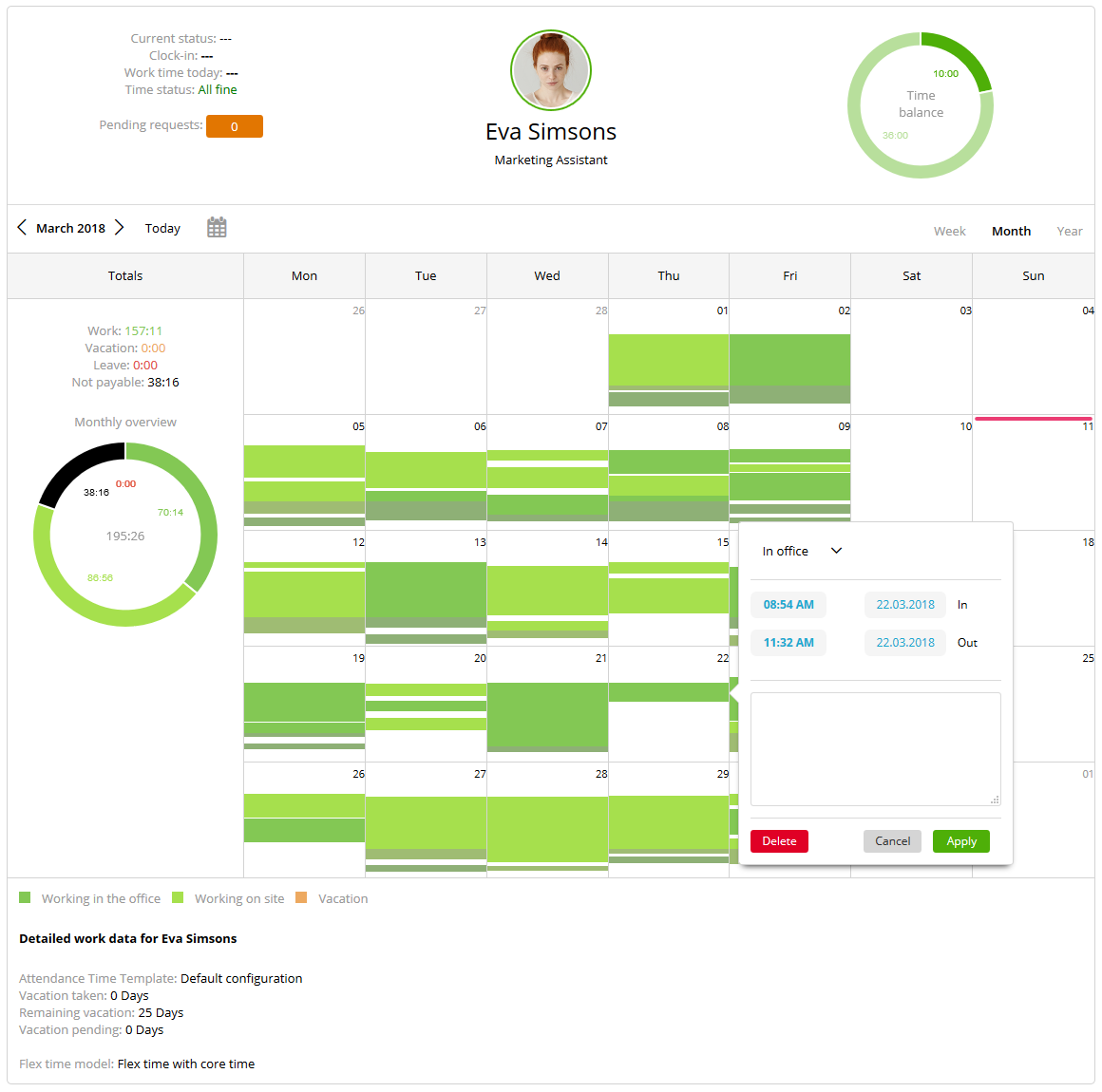 Easy-to-use Time and Attendance Schedule
Manage all staff working hours, sickness, vacations, lunch break rules and absences from your favorite browser. zistemo flextime scheduler gives you:
A bird's-eye view of your flex time policies.
Includes nice-looking time grids and graphs.
Hours deficit or surplus alerts available.
Advanced settings for lunch breaks and short breaks.
Reap the benefits of flex time at no extra costs nor efforts. Once you set it up, it simply works.
---
How Flex Time works FAQ
What is flex-time policy?
A flex-time policy is a flexible time scheme/work policy used by companies to organize working hours while allowing different starting and departure times. It usually includes a fixed "core time" interval – for instance from 10 am to 4 pm – when all employees must be in the office.
How to track flex time?
The best way to track flex time is to use the right time and attendance software – a system that tracks, monitors, and automates your employees' time logs online, on the cloud. Flextime employees (including their supervisors and human resources) can review time records and work hours from any web browser on their iPhone, Android phone or tablet, desktop, or laptop.
What is the best way to use flex time?
The best way to use flexible hours is to set up the time rules and use time management software with integrated time-tracking to implement it. Let's assume a company wishes to allow full-time staff to start work all workweek, at different hours between 7:30 and 9:30 AM and leave from 3:30 to 5:30 PM. With an elegant time and attendance software like zistemo, it takes just a few easy steps to customize it at a company, department, or even individual level (recommended for people with special needs, for instance). The company director or human resources manager can choose between flex time with/without core time, customize operation time, or just flex-start and fixed hours. Next, employees just need to track their working hours from their devices, and everything is synchronized online. Zistemo also offers a suite of fully personalizable functionalities like:
The ability to set up Flexitime Escalation Rules to prevent underwork or overwork.
Clock-in Rules like Geofencing or limiting time-tracking to certain IP addresses.
Flextime Reset, whose frequency can be annual, monthly, or weekly.
Other powerful settings are related to Meal Break Rules; Work Time Rules (with the possibility to pick any day as a weekly holiday); Holidays (specific to any country or company); Mandatory Holidays (spring break or 2-weeks off around Christmas, every year); Short breaks policy (they can be disabled or accepted as either paid time or unpaid time); Vacations (linked to a Department Calendar) and a Leave section for all types of leaves (Medical, Study, etc).
Why is flex time important to employees?
Flexible work arrangements enable employees to work when they're more productive. Instead of forcing them to comply with a one-size-fits-all number of hours (such as the 9-5 work schedule), employers offer them flextime arrangements with the chance to find the perfect work-life balance that minimizes the risk of burnout and boosts employee morale. For instance, members of the staff can pick up kids from school, leave early or late to avoid rush hour – all is possible within some limits that can be effortlessly set up by any employing company. Advantages of flexible hours for employees:
Flexible working hours enrich work-life balance.
Employee retention, as flextime is a major benefit.
Flexible full-time or part-time work (e.g. childcare).
Why does flex time work?
Flextime is a type of work schedule or flexible work arrangement of the times employees can start and end work. While a conventional schedule means working from 9 a.m. to 5 p.m. every workday (Monday-Friday), a flex-time arrangement lets employees arrive, for instance at 8:00 a.m. and leave at 4 p.m. on Mondays or work from 10:00 a.m. until 6:00 p.m on Wednesdays. Employees still work a full day and the only difference is that their working hours can vary. Flexible work schedules include an arrangement regarding the "core hours" when everyone should be at work.
How can companies streamline flex-time jobs?
By using the best time tracking and attendance software, with time clock apps and digital time calculators, businesses can now easily accommodate and manage as many time arrangements and work options as they wish. From tracking remote working to scheduling shifts for production units, dealing with part-time or full-time employees, managers can now instantly escalate and review the number of hours for workdays or workweeks for any alternative work schedules, from any device.
A Flex time workplace at your fingertips
Boost employee satisfaction, productivity and loyalty.
Work is no longer a place. Work is whenever your employees feel productive and give their best.
Start 14 day FREE trial