Switch to Flex Time in no time!
Set your business on autopilot with your work time models. Quicker. Easier. On the cloud.
Start 30 day FREE trial
Upgrade your business with the best flextime policy!
Take a leap into the future of working with our interactive, user-friendly time and attendance tools. Manage as many flexible working plans as you wish. Try them and polish them until they suit you and your employees. All on the cloud, synced and optimized for electronic devices of all shapes and sizes.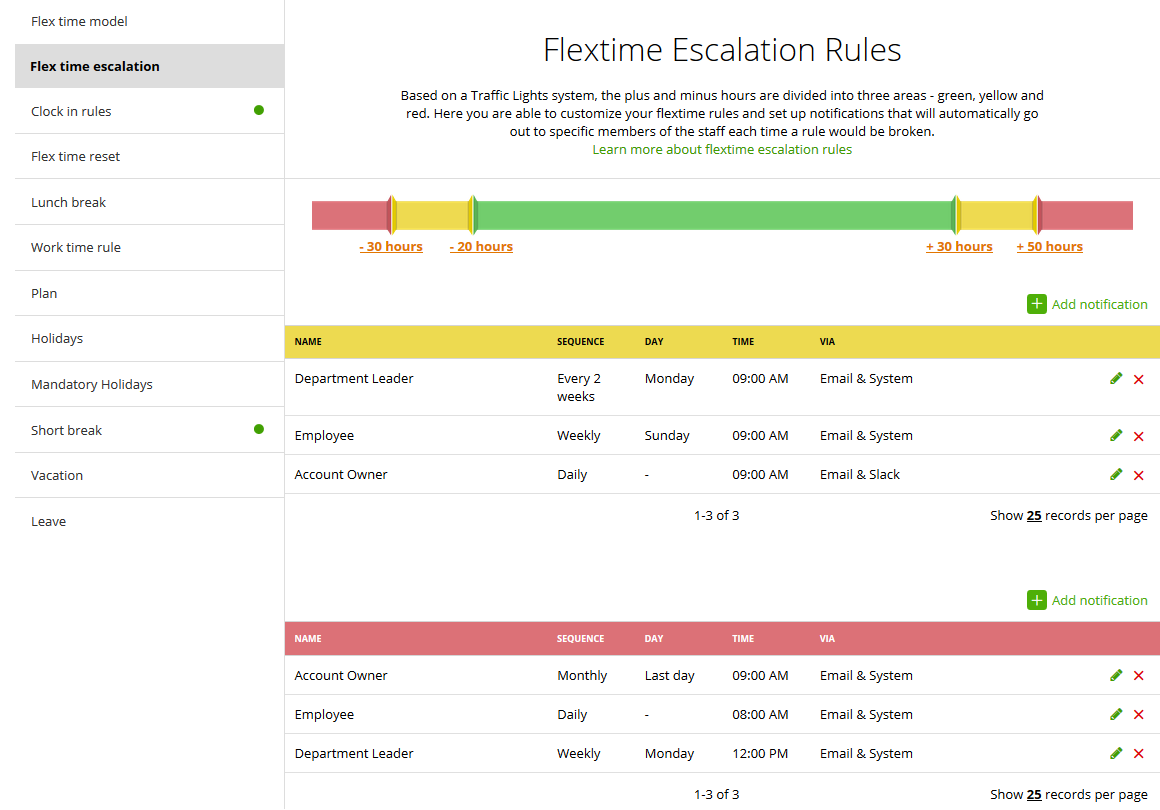 Escalation Rules that work like magic
Our hassle-free Traffic Lights design made flextime rules very easy to track and handle. For instance, excessive accumulation of overtime or absences can be spotted right away – they'll be in red.
Customize your flextime rules within seconds.
Set up who receives notifications for broken rules.
Manage shift swaps on the go.
Trace and prevent unproductive or costly work patterns.
Intuitive and automatically linked with a powerful suite of time features, attendance management and time cards — this is Business 4.0 at its best.
Employee Time Tracking on any device
Forget paper timesheets. Give your employees the freedom to log hours from their phone. Our cool time clock app tracks working hours on the go and allows supervisors to:
Instantly notice earliness-lateness trends.
Get notifications about excessive overtime or absences.
Customize core time and flex time rules on the go.
Everybody, from morning people to night owls can now deliver great work at their most convenient place and time.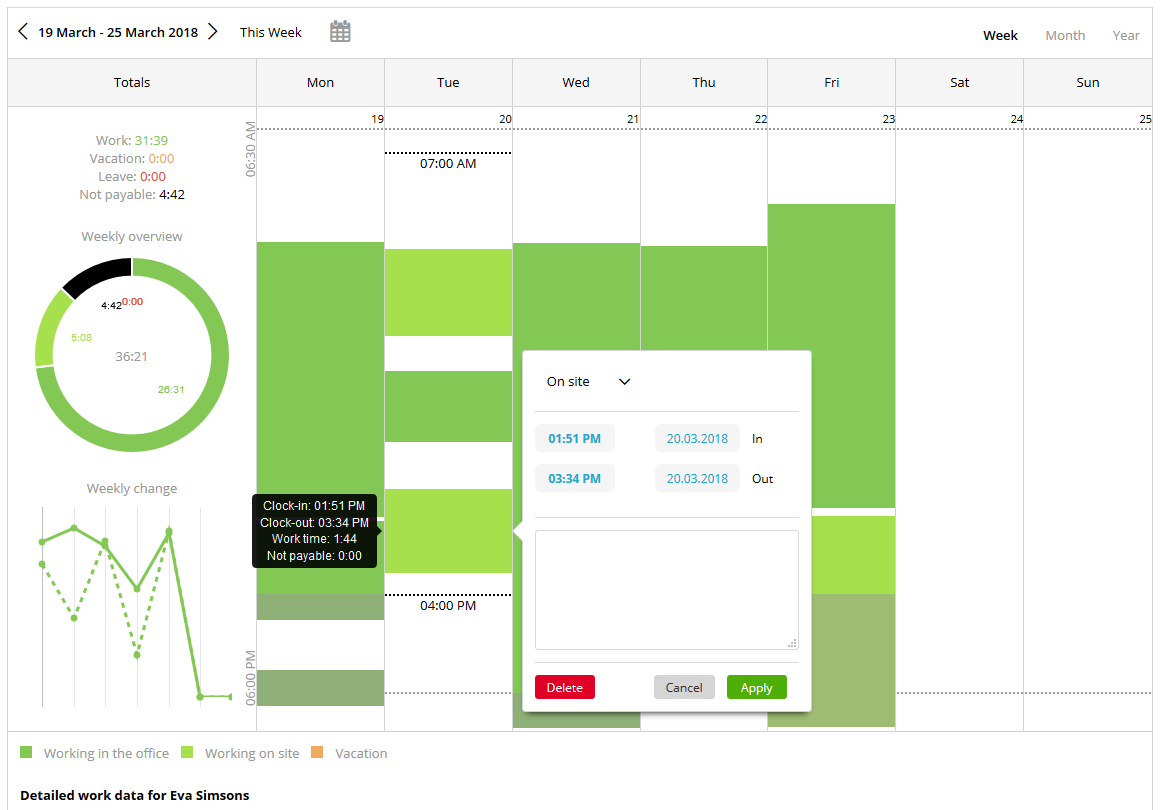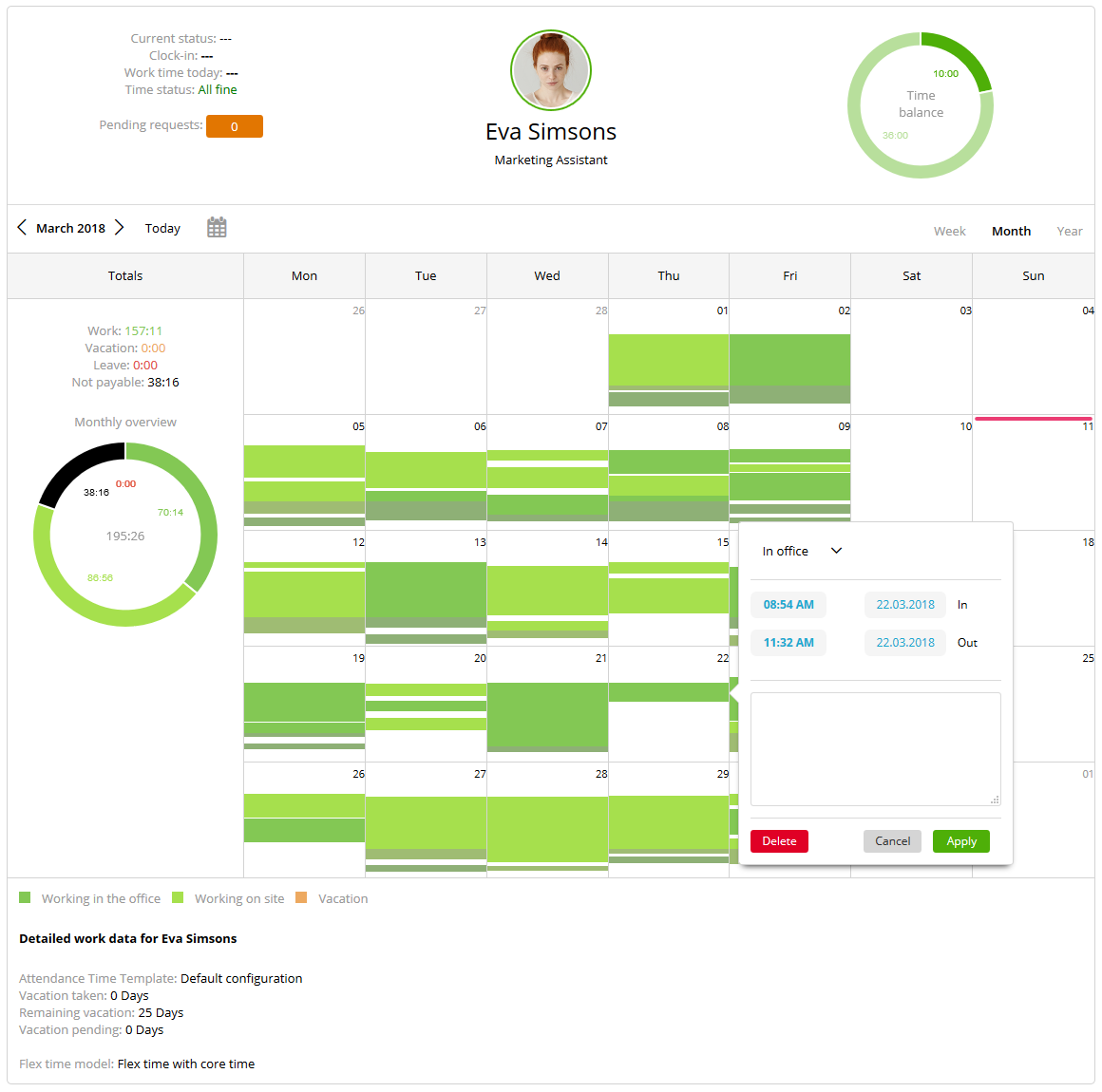 Easy-to-use Time and Attendance Schedule
Manage all staff working hours, sickness, vacations, lunch break rules and absences from your favorite browser.
A bird's-eye view of your flex time policies.
Includes nice-looking time grids and graphs.
Hours deficit or surplus alerts available.
Advanced settings for lunch breaks and short breaks.
Reap the benefits of flex time at no extra costs nor efforts. Once you set it up, it simply works.
---
How Flex Time works FAQ
What is flex time policy?
A flex time policy is a flexible time scheme used by companies to organize working hours, allowing different starting and departure times. It usually includes a fixed "core time" interval – for instance from 10 am to 4 pm – when all employees must be in the office.
How can companies streamline flex time jobs?
By using the best time and attendance software, with time clock apps and digital time calculators, businesses can now easily accommodate and manage as many time arrangements as they wish. From tracking remote working, to scheduling shifts for production units or dealing with part-time employees, managers can now escalate and review time data from any device, within seconds.
How to track flex time?
The best way to track flex time is to use the right time and attendance software – a system that tracks, monitors and automates your employees' time logs online, on the cloud. Users (including supervisors) can review time records from any web browser on their iPhone, Android phone or tablet, desktop or laptop.
Why is flex time important to employees?
Flex time enables employees to work when they're more productive. Instead of forcing them to comply with a one-size-fits-all 9-5 schedule, you offer them the chance to find the perfect balance between their personal life and their professional life. For instance, they can pick up kids from school, leave early or late in order to avoid rush hours – all is possible within some limits you get to set up.
Why flex time works?
Flex time policies work because they have a working plan for all staff. From creative marketing teams to individuals with special needs and contractors or factory workers, there's a flex time model that perfectly fits every department and individual. For employers, flex time means reduced time theft, enhanced productivity and happier employees.

«Easy, accurate and mobile Time-Tracking is my preferred feature in zistemo». «We convert every minute and work for customer projects into invoices». Oliver Fritzsch, owner Fritzsch Heating tech

«The very fact not wasting a single minute unbilled is worth its price». «Working with zistemo allows me to have a far better overview of my active projects and expenses compared to the previous method I used». Joachim Neef, founder Neef Consulting

«zistemo is modern, intuitive and easy to use». «Beside that it's clearly structured and versatile. For me it's THE professional work simplification for invoices, expenses and Time-Tracking». Uwe Riek, founder of Riek Real
A Flex time workplace at your fingertips
Boost employee satisfaction, productivity and loyalty.
Work is no longer a place. Work is whenever your employees feel productive and give their best.
Start 30 day FREE trial