The smartest invoice creator is here!
Create professional invoices on the go with our painless invoice layout designer. Choose from a wide collection of great-looking templates or upload your own. Either way, the best part is that our invoice creator helps you customize everything. Why settle for less? Fine-tune your invoices in no time.
Design Your Invoice Layout For FREE
Take your business to the next level with the best mix of editing tools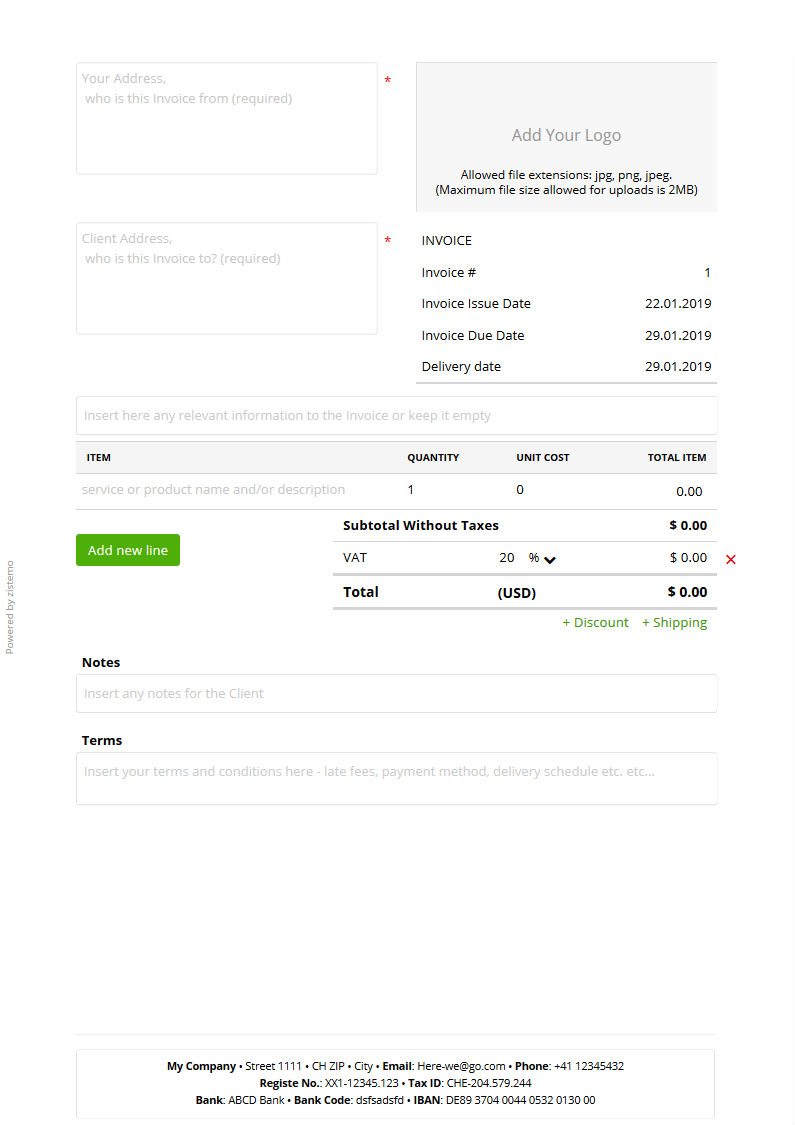 All the help you need to create the perfect custom invoice layout in one place — zistemo
A wide selection of template fonts you can choose from.
Customized fields for projects and clients.
Add your company logo and company name.
Drag and drop invoice builder.
Your own local date and number format.
Helping lines, rulers, grids available.
Optimized for Windows, Macs, phones and tablets.
Invoice software with editing features you will not find anywhere else
Manage teams, clients & your business in one screen.
Completely scalable. If you grow, you can upgrade.
Our apps match all your staff's devices & resolutions.
Live user status: "Present", "Break", "Absent", "Vacation".
Easy, interactive & handy tools. No gurus needed.
Customizable reports on staff, projects & budgets.
We comply with the highest Swiss data security protocols.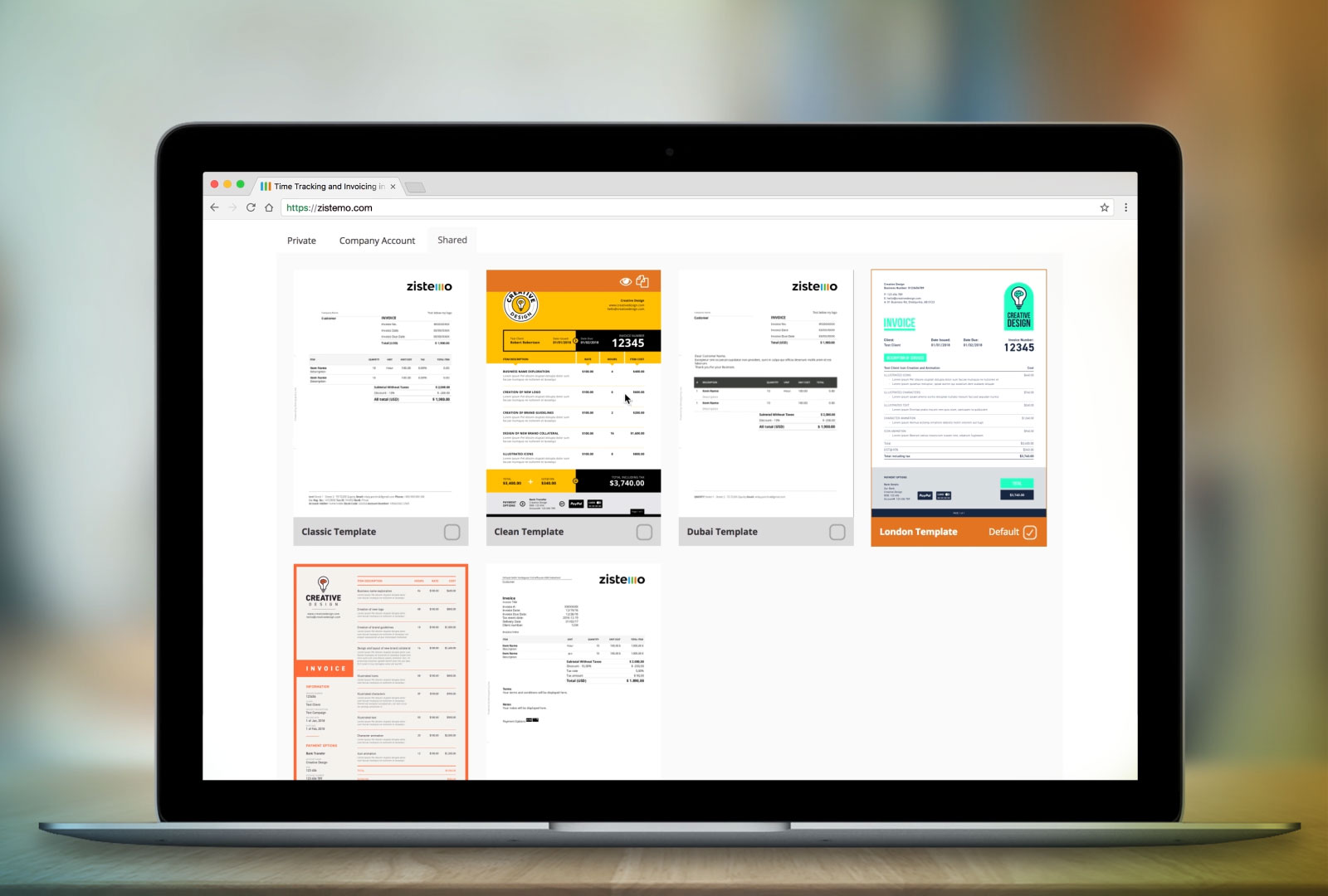 The ONLY 100% customizable invoice creator!
There are many editing tools out there, but sometimes you need to install (and waste time) with several apps to get professional-looking invoices.
With zistemo invoice layout designer you have the best invoice editing features for business documents in ONE place.
Sharp invoice templates. Extremely easy to customize. No design skills needed.
100% editing freedom – just use drag and drop to move things around and modify layouts.
Professional templates to reflect your brand identity, save time and speed up client payments.
100% interactive invoice maker software
Invoice templates are a handy, simple yet powerful way to give your business a competitive edge. But how do you know which templates to choose? And if you find a nice layout, how much time does it take to fine tune it to your business? That's why we give you a unique invoice maker. It's built to help companies of any size! Fast, user-friendly, smooth template customization, simply drag and drop invoice elements and design a stunning invoice yourself. This professional invoice maker is designed to help you issue personalized invoices in no time.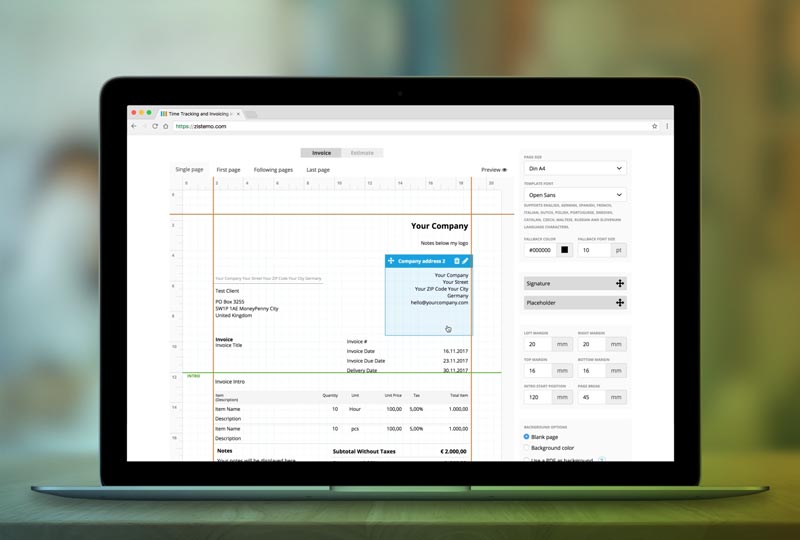 Speed up invoice creation, then upgrade your business!
Professional-looking invoices are one small step. How about a leap? Take your business to the next level! zistemo Invoice Creator is just an example. We have a great selection of tools designed to help business owners, companies, teams and freelancers worldwide. Our business software has features that automate project tracking, billing, reporting, team timesheets, budgets, time tracking and purchase orders. Everything smoothly synced on the cloud. Accessible 24/7 from any device. Sign up to have all your business data, files, and processes in one tab: your zistemo account!
---
Frequently asked questions about our invoice creator
What is the zistemo Invoice Creator?
The zistemo Invoice Creator is a professional invoice maker and layout designer developed by our agile invoice generator software. Basically, it helps anyone create 100% customizable invoices in the simplest possible way. The interface is a charm to use. Drag and drop invoice elements, like: client's name, phone number, invoice number, payment terms and payment links, due date, total amount. It's the simplest way to create even complex and beautiful invoices without being a designer. It's user-friendly and it doesn't waste your time. Even advanced editing such as page size, font type/color/size, margins or background options are extremely intuitive. Zistemo online invoicing software is designed for all businesses: freelancers, small business owners and big enterprises.
Why should I pick this invoice creator?
It took us several years to come up with this fully customizable invoice template generator. Based on numerous client surveys and elaborate customer feedback, this tool has all the advantages that any invoice editing app/tool should have:
It's hassle-free.
It has a generous free trial so you have plenty of time to decide if you like it or not.
It's built to speed up invoicing instead of keeping you stuck.
In case you do get stuck, our support team is happy to help.
From basic 1-page blank invoices to intricate multipage templates, we cover all bases!
You're welcome to upload your templates as PDF and edit them.
You can issue unlimited invoices.
When you online invoice is ready, you can email it right away, download a pdf invoice or save a printable version of it on our storage space.
I want to create a simple invoice template. How do I start?
Once you sign in for free, you have access to our pool of responsive invoice layouts. We've grouped templates under 3 main categories: private, company and shared, so it shouldn't take long for you to find something that suits your needs. Once you've picked one, start with a new invoice. Add the basic details such as business name, address, contact information and payment details. Bank account details, PayPal accounts, credit card and other online payments methods. If your company is VAT registered, add your VAT Registration Number. Save this template and use it as starting point each time you want to invoice a client.
Why would I need a professional invoice maker?
A professional invoice maker helps you automate invoicing. Instead of starting from a blank page each time you want to invoice your clients, you already have a nice, clean template ready. Select one of our professional invoice templates. You just need to fill it in, send it, then wait to get paid. The more professional your invoices look and feel, the better. You can personalize templates and add simple details such as your company logo - a small detail that builds a lasting impression on your clients. Adding payment methods or information to your template is another powerful tip that's upgrading your invoices and encourages clients to pay you faster.
What are the benefits of online invoice generator?
You can use zistemo sample invoice or use our online invoice generator to add your company logo, add custom fields or line items however you want. The pricing of zistemo invoicing software starts from 15 USD per month, but before you pay we offer you a 14-day completely free trial, and no credit card is required. With that price, not only you get access to online invoice maker but also to a wide range of business management tools and real-time tracker.
Professional, efficient, smart invoice layout designs
Say "Adios!" to dull excel or word invoice template.
Choose from hundreds of stylish and free invoice templates. Create multiple templates for estimates and invoices with just a few clicks. zistemo lets you brand them and edit them to fit your clients and job types.
Design Your Invoice Layout For FREE