A free word invoice template just for you!
Are you struggling to create the most professional yet nice-looking invoice in Word? Stop! You've landed on the right page.
Download Free Invoice Template Word
Since you're here, why not upgrade your invoicing?
Word invoices are just a basic step towards speeding up your invoicing. Plus, they do not allow to automatically calculate amounts. You risk to miscalculate the total and you're also wasting precious time and money. Let us help! We created the zistemo Invoice Software to fully automate your invoicing. Speed it up! Your perfect solution to professional & unlimited invoices is here!
Here is a professional word invoice that looks good and will speed up invoicing
Free simple invoice template in Word format.
Completely painless to fill in.
100% customizable – you just have to add your billing details and that's it!
These FREE templates will save you time and speed up payments.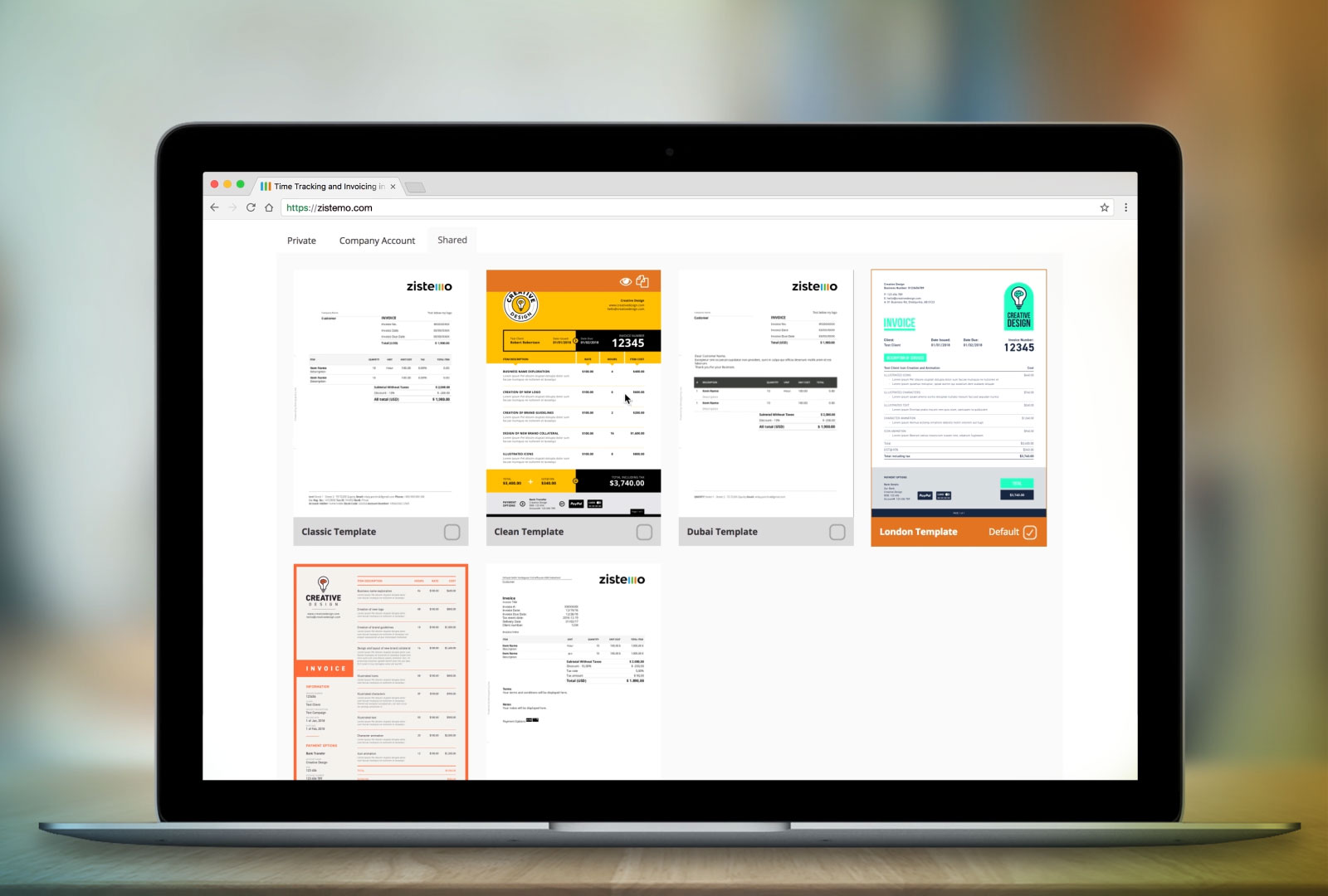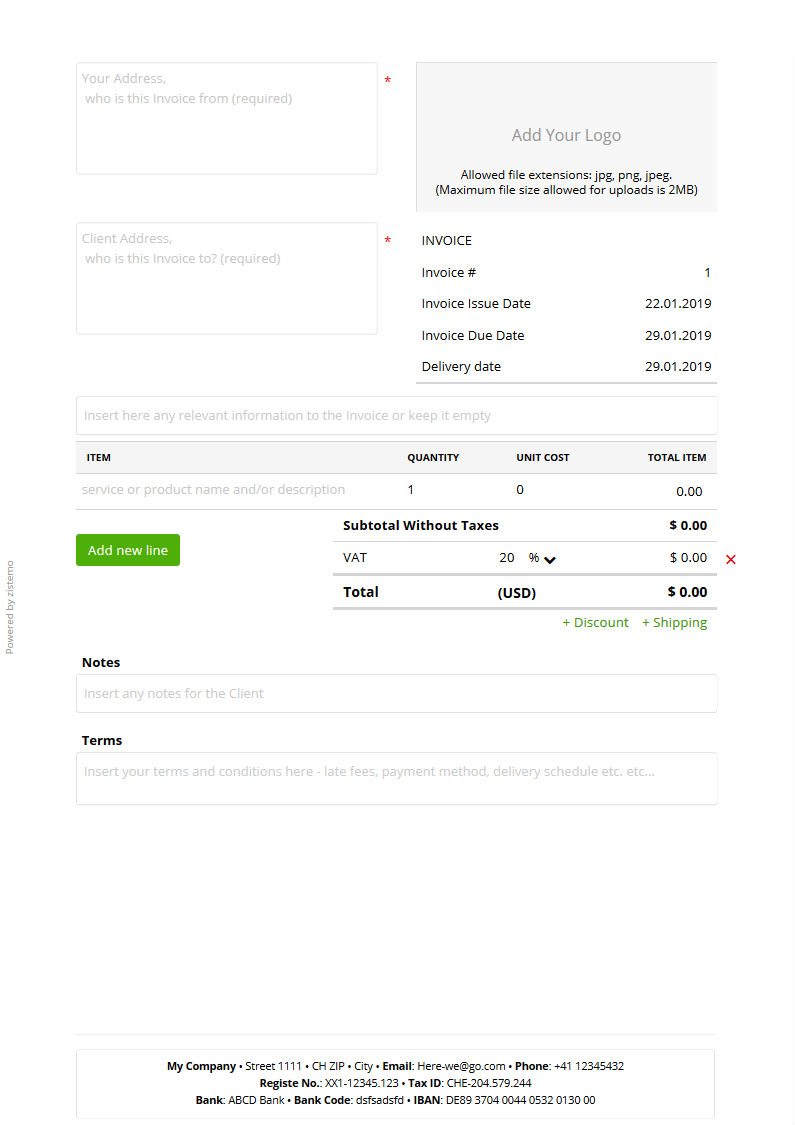 Your small business management tools: why join zistemo today?
Access easy-peasy invoice creation, with Invoice History tracking.
Receive live notifications about your business on your phone.
An efficient Recurring Invoicing feature ready to save you more time.
Stylish invoice templates ready to be customized by you.
Multiple short, medium or long invoice formats to choose from.
Handy, intuitive & 100% customizable invoice numbering tools.
Integrated & painless to set up payment reminders. Fast. Simple.
Customized intros for business docs such as invoices or estimates.
Get invoice & team updates on any device, via Slack.
Very simple invoice editing, export and sending out to clients
Turn expenses, estimates & timesheets into invoices in no time.
Invoice amounts & taxes automatically calculated. No errors.
Frequently asked questions about word invoice template
What is a word invoice template?
An invoice template in doc. format is a time-saving tool and a basic step towards automating your invoicing. Instead of creating a new invoice every time, you just fill the same template with the information that applies and send it. However, for business automation, there are more advanced tools ready to streamline processes, organize your workflows better and keep you from wasting time with chasing late payments, for instance.
How to fill in an invoice so I get paid faster?
After downloading the free invoice template word, start filling it considering this short checklist that will make sure you'll provide all the data your clients need in order to pay you faster:
dates: issue date (the date the invoice is raised) and due date (due date is the date on which your client had to pay the invoice amount);
contact details: the contact info for both you and your customer;
invoice number: each invoice has to have an unique number;
payment terms: these are the rules you apply to late payments and it's important that your clients are aware of them.
If all the details above are clear, you avoid delays caused by misunderstandings or missing information.
What makes the best Word invoice?
The most important thing about an invoice template is its layout. When picking up the right layout, always have in mind your business and your client. Make sure the template is easy to read, meets all the legal requirements and presents information in a clear way. Remember to add your company logo. A branded design makes a good impression on your clients. Keep it professional, simple and neat.
Which are the advantages and disadvantages of using a invoice template in doc. format?
A word invoice template is accessible and easy to handle, edit or customize. However, the main disadvantage is that it's not allowing you to automatically calculate amounts or to import data from timesheets, expense records, etc. Basically, you have to do everything manually. This is not a problem for sole-traders or very small businesses.
For large teams, or for medium/big companies, the manual calculation might end up causing errors and delays in receiving payments, plus the hassle of trying to figure things out. That's why most businesses these days opt for an online invoicing software that simplifies everything from invoice creation to import/export of timesheets or expenses data to/from invoices.
Your business is more than invoicing!
Invoicing is just a part of the process. How about linking your organized invoicing system with timesheets, projects, budgets, reports, project tracking and expenses? Take your business to the next level. Sync all your workflows, communication and business data in one place:
your zistemo account.
Create custom invoices like a pro