Strart tracking your time spent on projects and tasks now!
Looking for a cool team time tracking app? The smartest team tracker or perhaps the best team collaboration software? zistemo is all of the above, and more: invoicing, project tracking, budgeting PLUS project, client and timesheet management. All the tools your team needs are here. Organize and run your business on-the-fly.
Project progress live notifications on your phone
If the timesheet approval process gives you headaches, zistemo is here to save you! Fully linked with our project time tracking software. Click, click. Done!
Mobile project time tracking
Thousands of international teams rely on zistemo mobile app. They can track projects from their phone, laptop or tablet. Join them today and try our project time tracking app!
Struggling with PROJECT TIME TRACKING? STOP! We can help!
With zistemo Project Time Tracker you can:
easily create and track projects with multiple staff members;
simultaneously manage as many projects as you can;
track tasks, time, team deadlines and budget;
monitor team performance against each project and task.
Life is too short to waste it with synchronizing different tools or using multiple project management apps. Start zistemo: the all-in-one tool.
Accurate project management time tracking
Keep teams organized and boost efficiency. Our accurate project tracker is built to sync all data on the cloud. See for yourself how invoicing, project tracking, team timers, budgeting, and timesheet management can run smoothly. The key project management time tracking features built for your business. Easy to use, precise and user-friendly.
Smart dashboards. Powerful reports
If you're looking for visual real-time snapshots of your projects, project timers, budgets, deadlines or team activity, the zistemo project tracking software gives you just that. A simple and quick way to see the bigger picture, make timely decisions and plan ahead. Turn timesheets into beautiful reports with a few clicks. Gain deeper insights across your business data. Clear and effective visual tools will power up your business!
The zistemo project time tracking app
Our project time tracking app is the smartest tool that will keep your team and projects organized. Slick up project management with:
Time tracking auto reminders for efficient timesheet submission.
Time roundings that will automatically adjust time records for projects.
Faultless and simplified timesheet flow, where team leaders can assess, accept or reject timesheets on the move.
Well-organized and user-friendly monthly/weekly team timesheets with nice performance graphs.
---
Project Time Tracking FAQ
What is Project Time Tracker
Project Time Tracker is a suite of essential monitoring and time reporting tools used by project managers or by anyone who is working on a project. All its integrated features form a system that helps project management teams to keep all processes streamlined. Project Time Tracking ensures projects are completed within the time and the budget agreed with the client. It also offers a full picture of the overall progress and the productivity of the staff involved. The powerful reports that come with it allow business owners or team leaders to make timely and better-informed decisions.
How to track employees time on a project?
There are various ways to track employee time on a project, from manual reporting processes to Excel spreadsheets. However, these days, when 95% of employees use at least one mobile device for work, the most efficient alternative to the old-school methods above is a Project Tracking Software and a linked Time Tracking App. Staff can start the timer from their phone and all their activity is synced in real-time with the software. When they need a break, they simply tap the phone screen to pause. Team leaders can see live updates of their activity, how many hours they worked, on which tasks or projects. Simple, efficient and accurate.
How time tracking helps project management?
Time tracking helps plan, manage and complete projects while meeting deadlines, budgets, and client expectations. The powerful reports based on time-tracking data are the key to a stable, data-driven business growth. Time logs allow project managers or team leaders to better evaluate the progress of individual project tasks, anticipate and allocate resources in a timely manner.
What are the benefits of a Project Timer App?
Better project management.
Precise project invoicing and accurate, transparent pricing of services.
Streamlined workflow. Reduced downtime.
Increased productivity and improved time management for teams.
Eliminates the time-consuming sorting of project paperwork.
Allows real-time updates on project hours and costs.
User-friendly design accessible from any smartphone, laptop or tablet.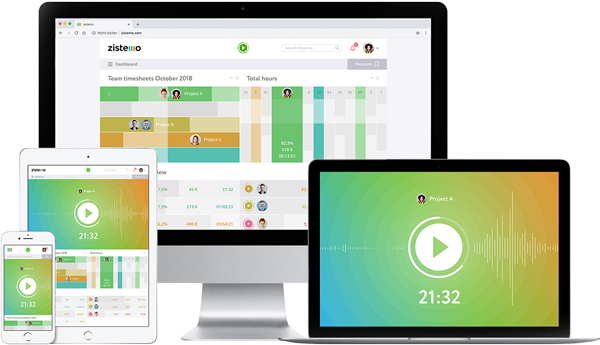 Clear team communication
Employees log hours from any device, then submit timesheets. Team leaders get alerts on their phones, so at any time they can discuss, edit or approve time logs. The zistemo project time tracking software uses instant messaging via Slack. Team members can see in real time who is working, taking a break or who is on holiday. Painless transparency at its best!
Live project management time tracking!
Get prompt access, from any laptop, smartphone or tablet, to your staff rates, project timers, invoices or task rates. 24/7 smooth data integration across your devices. The zistemo timesheet app and live time-tracking tools will digitalize your projects. Enter the Business 4.0. zone. Join thousands of companies worldwide.
Power up your projects and test zistemo today, for free.
Start your 30 day FREE trial