1. Company Information
2. Address and Phone
3. Company Settings
3.1  Base Currency
3.2 Number Format
3.3. Time Zone
3.4 Date Format
3.5 Time Format/First Day of Week
3.6 Language
3.7 Company Registration Number/Tax ID
3.8 Account Number System
4. Business Bank Information
5. Email Delivery
When you register your account you will be asked to enter your company's location. This location will determine which predefined settings are applied to your company account.
These predefined settings are:
Date and Time Format
First Day of Week
However, you can change that (and further company data) on the company profile.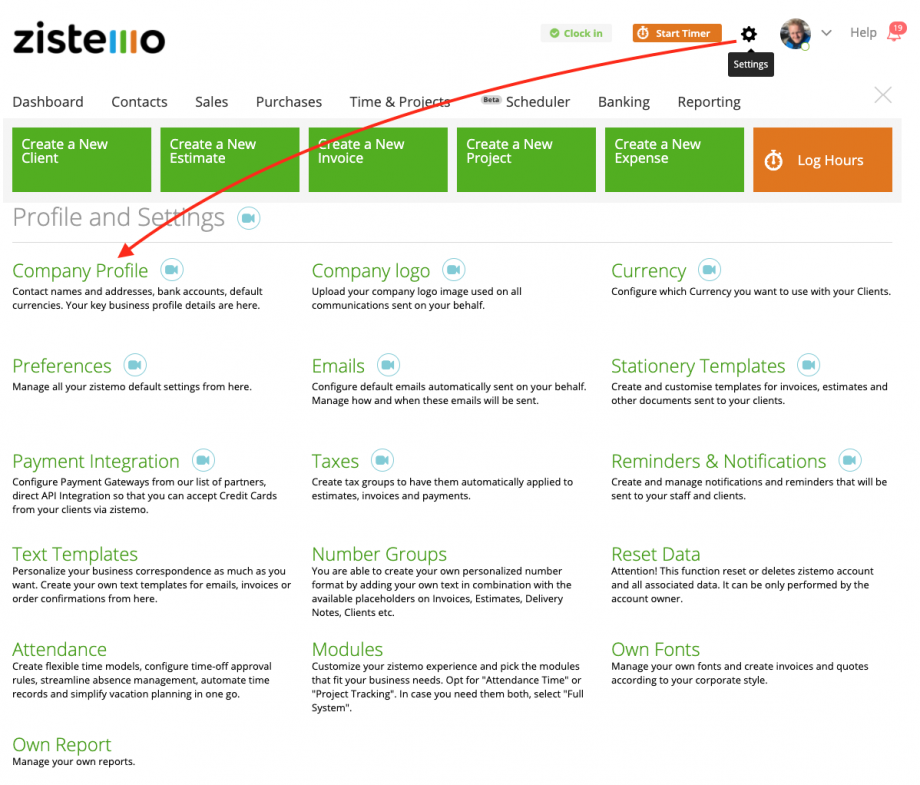 Company Information
On the company information tab you can change the company name, company email address and change your zistemo subdomain (business link).

Address and Phone
On the second tab you can change the company address and a general phone number. This information will be used on the invoice/estimate footer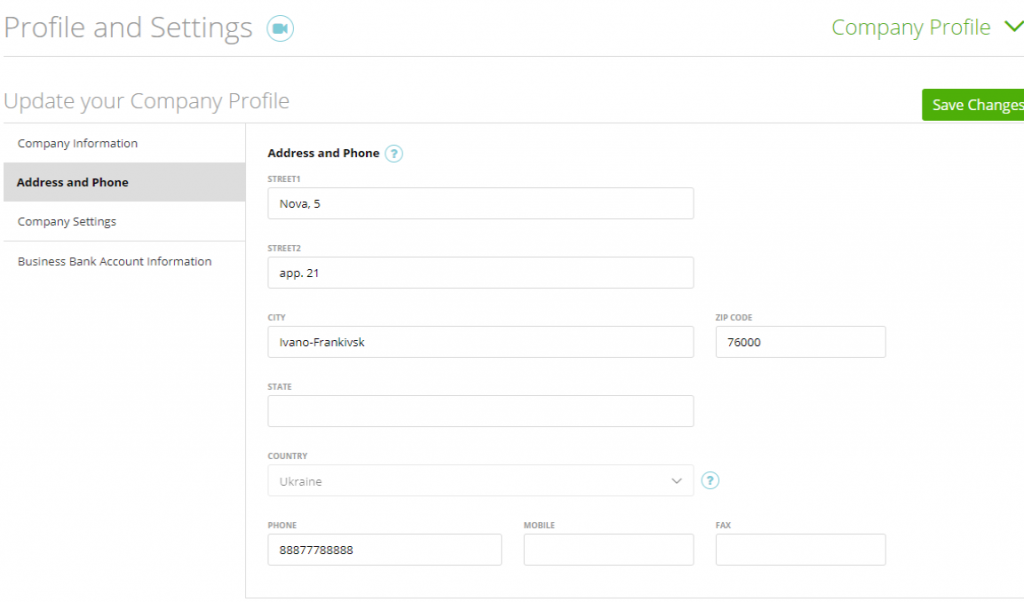 Company Settings
On the company settings you can change default settings for the company's zistemo account.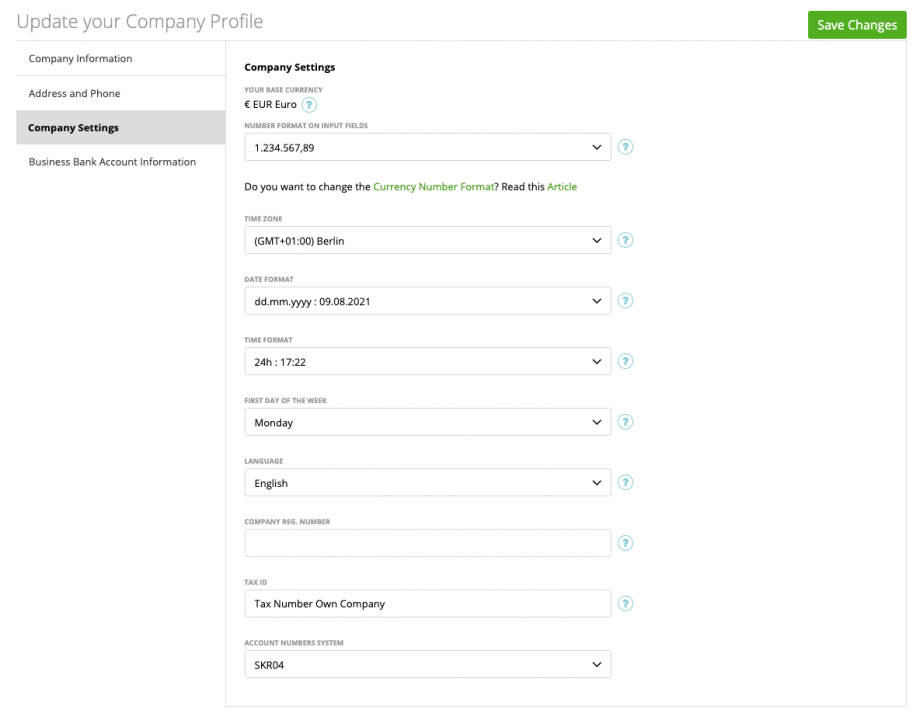 Base Currency
Your Base currency is used as the currency for all account reports, hourly salary rates, tasks, and items rates.
It is also a default billing currency. To bill clients using other currencies – you can add and customize at Settings ➝ Currency. Learn more about using multi-currencies
Number Format
Here you can change the general number format in the system. Please note that it doesn't effect the currency format on estimates/invoices. If you want to the change the number format of a currency, please read this article: click here
Time Zone
This is your company's time zone. Automated account actions such as email notifications will take place at 9:00 AM in your time-zone. Each user can have separate time zones if needed. Click here learn more about user time zones.
Date Format
The date format is used for all account actions and will display on invoice and estimate documents. following date formats are supported:
mm/dd/yy
mm/dd/yyyy
dd/mm/yy
dd/mm/yyyy
yy-mm-dd
yyyy-mm-dd
yy/mm/dd
yyyy/mm/dd
mm-dd-yy
mm-dd-yyyy
dd-mm-yy
dd-mm-yyyy
mm.dd.yy
dd.mm.yy
yy.mm.dd
mm.dd.yyyy
dd.mm.yyyy
yyyy.mm.dd
dd M yyyy
dd M yy
dd.MM yyyy
dd MM yy
Time Format/First Day of Week
zistemo supports two Time Formats – 12h (5:22 PM) and 24h (17:22). You can choose the one you prefer. And also set up the first day of the week. The first day of week will be used for calendar views like on timesheets.
Language
The company language will be used as default to all users, documents (invoices, estimates, retainers, etc.) and notifications. Following languages are supported:
English 🇺🇸
German 🇩🇪
French 🇫🇷
Italian 🇮🇹
Czech 🇨🇿
Ukrainian 🇺🇦
Spanish 🇪🇸
Polish 🇵🇱
Portuguese 🇵🇹
Russian 🇷🇺
If you want to change the language of an invoice, click here to learn more.
Further, staff can use their own language if the want/need to. Learn more about users's language
Company Registration Number/Tax ID
The company registration number and the will be used in the footer of documents like invoices, estimates and retainers.
Account Number System
Based on you company location (GER/AT/CH) you can select between account number system SKR04/SKR03. If you aren't sure what to use ask you tax consultant/accountant. It will effect your expense categories numbers.
Business Bank Account Information
You company bank information will be used on all invoices, estimates, retainers etc.

Email Delivery
By default, all emails will be send from your email address but from the zistemo server. Due to that fact, it could happen that your email will get into spam at your client's inbox. To avoid that you can either whitelabel your domain or you change the email delivery setting. You could also send emails from "do-not-reply@zistemo.com" or send emails from your outgoing server using SMTP.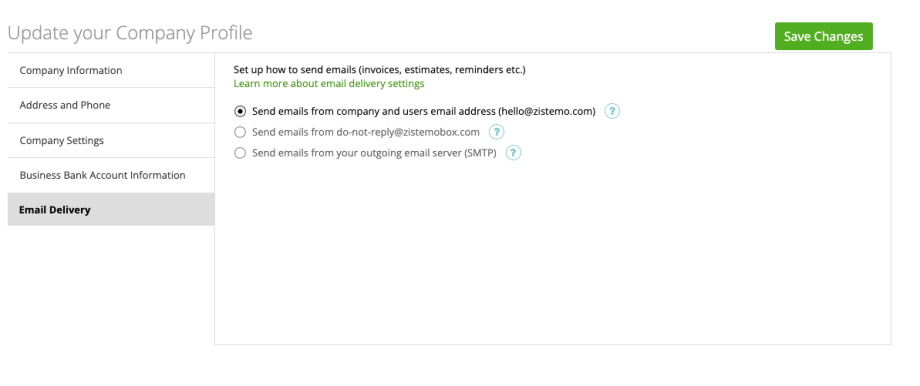 Learn more about using do-not-reply@zistemo.com ➜
Learn more about sending email from your server using SMTP ➜