Billable expenses by default
Create Transaction out of expenses
How do I search for a specific expense?
Sort Expenses
Change Category
Change Vendor
Billable expenses by default
If some of your business expenses are related to a particular client or project, you can invoice the client with these expenses.
To attach an expense to the invoice, firstly you need to assign the expense to the project/client on the expense page. Be sure, that the "Expense is billable" box is checked.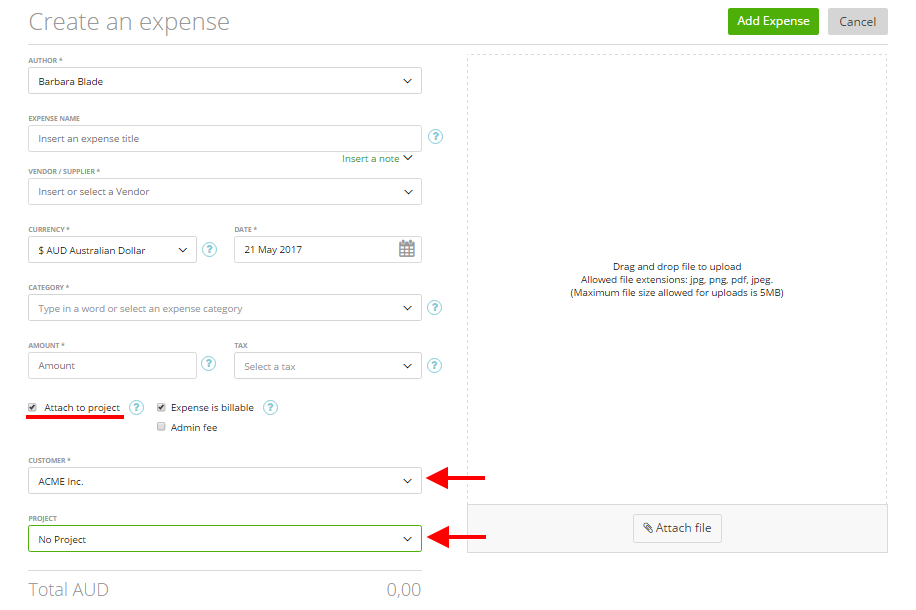 Note: To be 100% sure that the 'Expense is billable' box is checked, you need to set it by default in the Settings -> Preferences -> Expenses -> box ('Expenses are billable by default')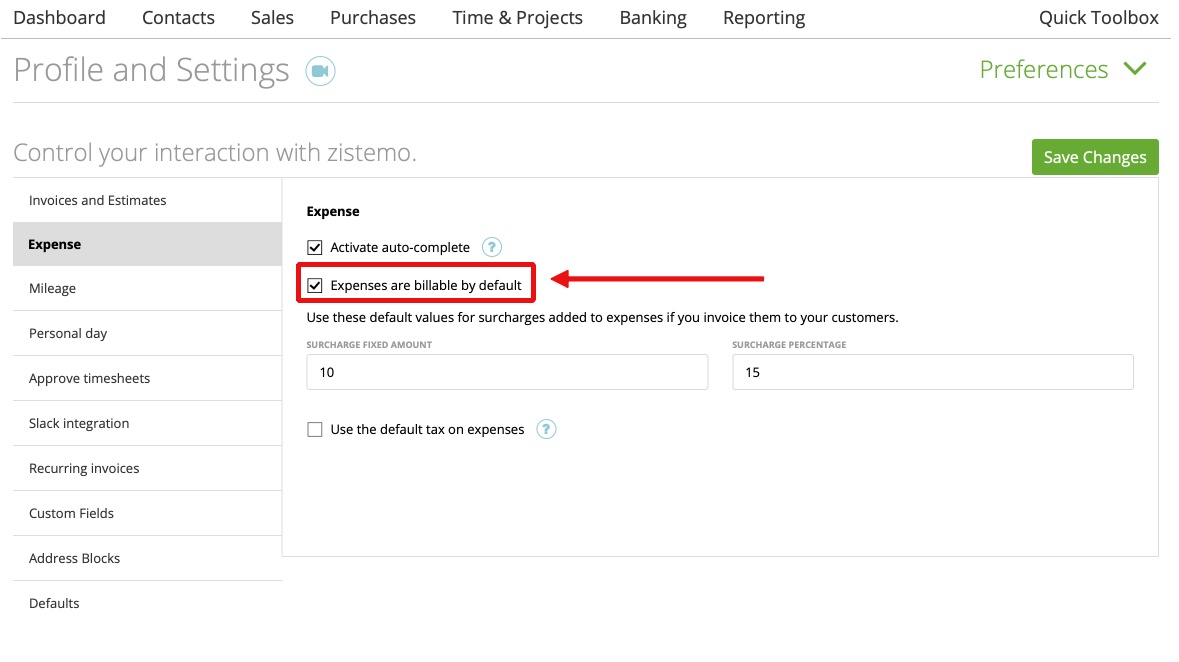 Create Transaction out of expenses

once you click it, you'll get to this page: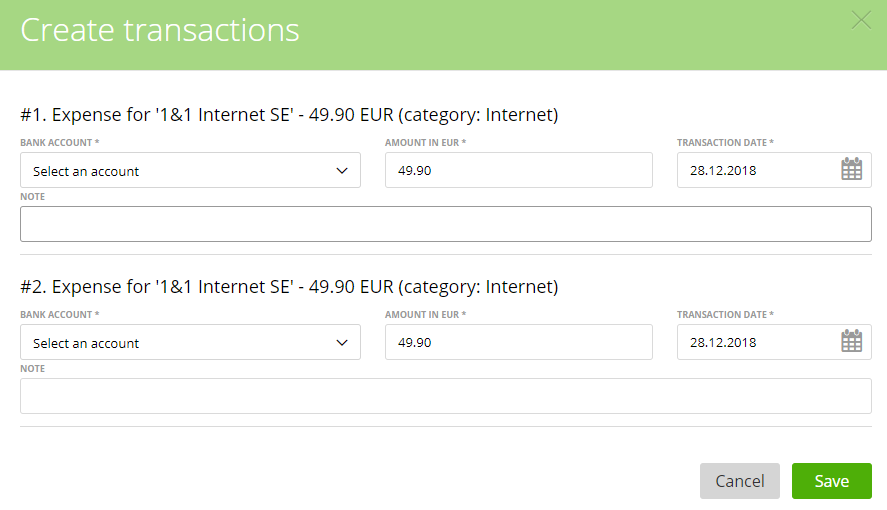 Select a bank account, and add a note, but even if you save it just like this, you'll be able to edit it later in Banking (click on the account name you chose and you'll get to your transactions), you can edit them from here: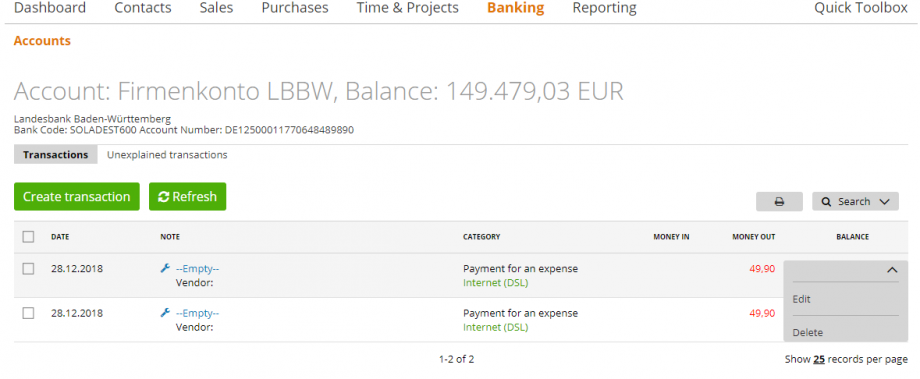 How do I search for a specific expense?
You can quickly find and filter expenses on the Expense list by using the Search option: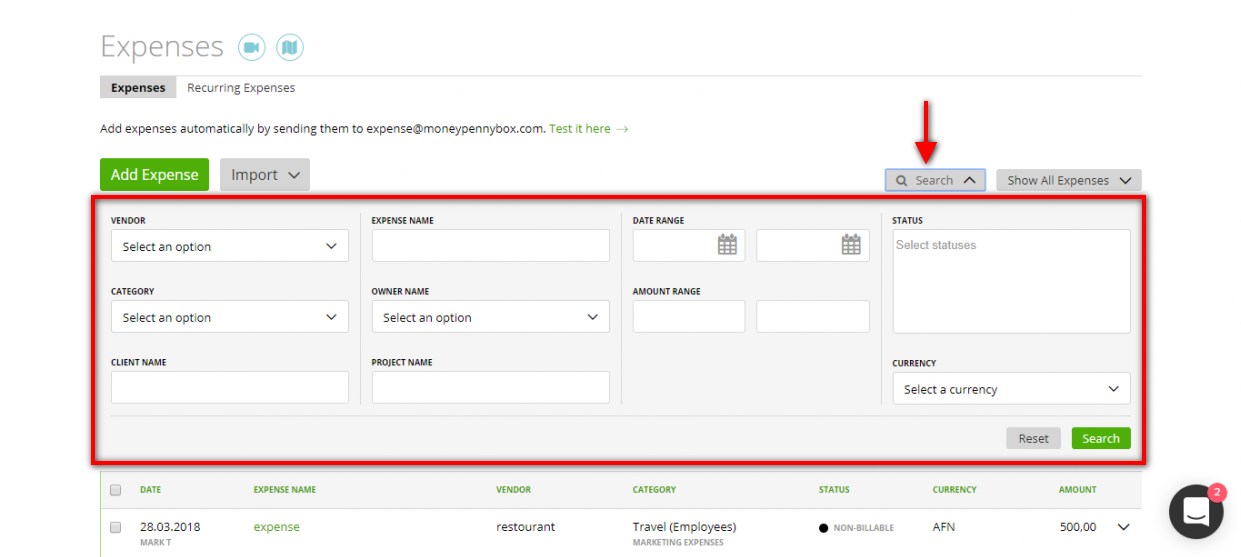 Here you can filter information by:
– Vendor – choose the vendor linked to your expense
– Category – choose the expense category
– Client name – enter your client's full name or just a part of it
– Expense name – enter the expense's name or a part of the name
– Owner name – choose the author of expense
– Project name – enter a project name (or part of the name) which is assigned to expense
– Date range – choose a time frame that includes the expense creation date
– Amount range – choose an interval for the expense amount
– Status – choose one or several expenses statuses
– Currency – choose the expense currency.
Sort Expenses
You can also filter your expenses by clicking the needed heading. This rule also works when assigning an unexplained transaction to an expense: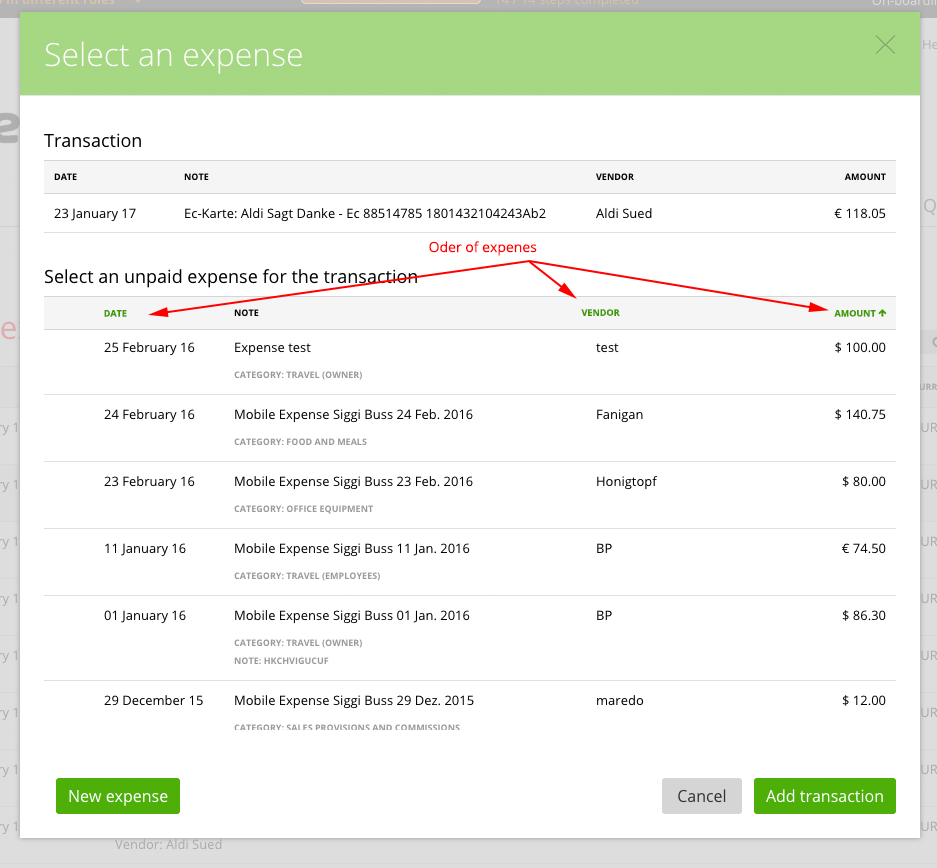 Change Vendor
If you enter something's different names for the same vendor, as for example: Hotel on the Beach; Hotel on the Beach – Miami; Hotel Miami; Hotel Miami on the Beach.
With this option you can clean up this mess. You choose the expenses you want to change and press "change vendor":´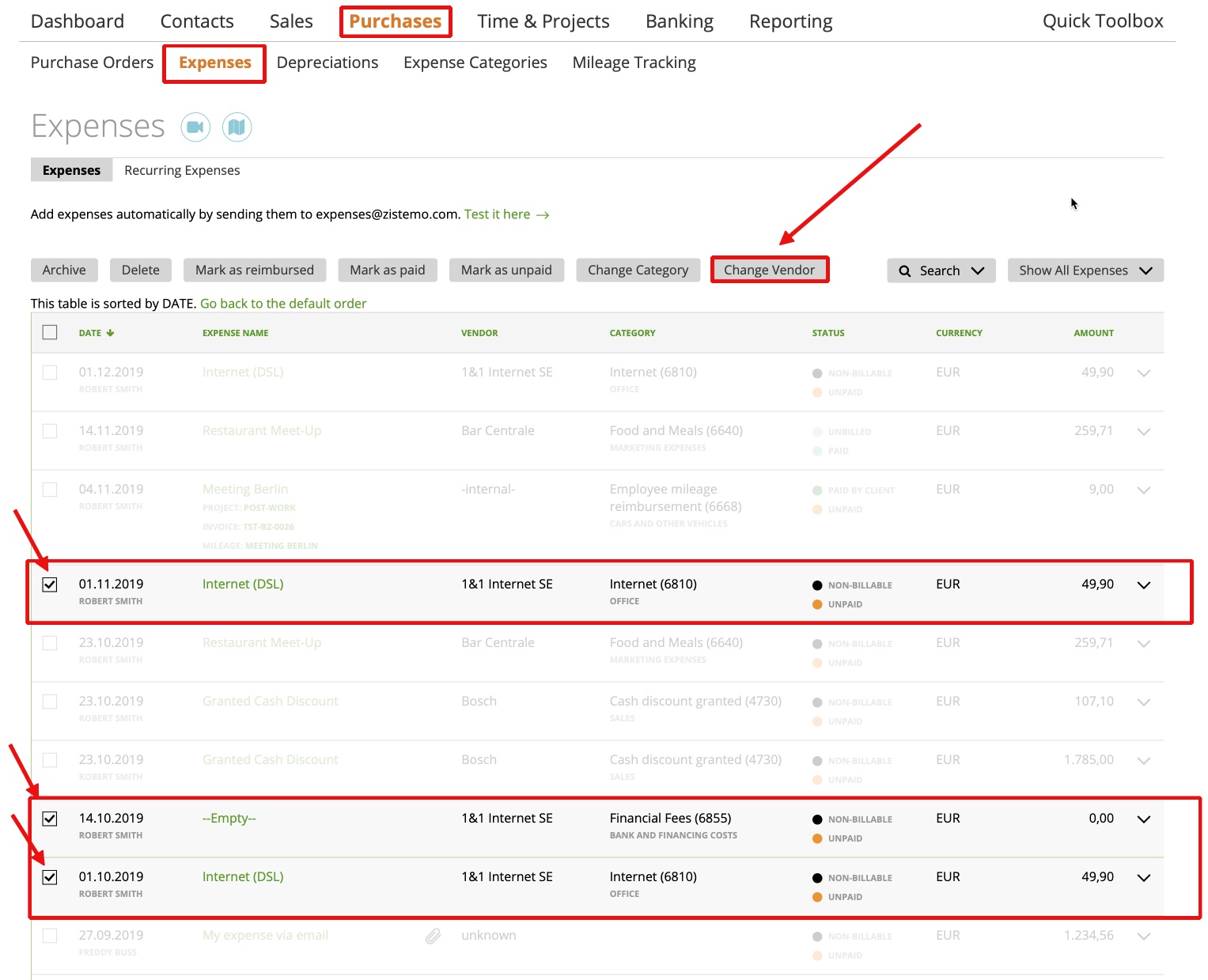 Choose your preferred Vendor: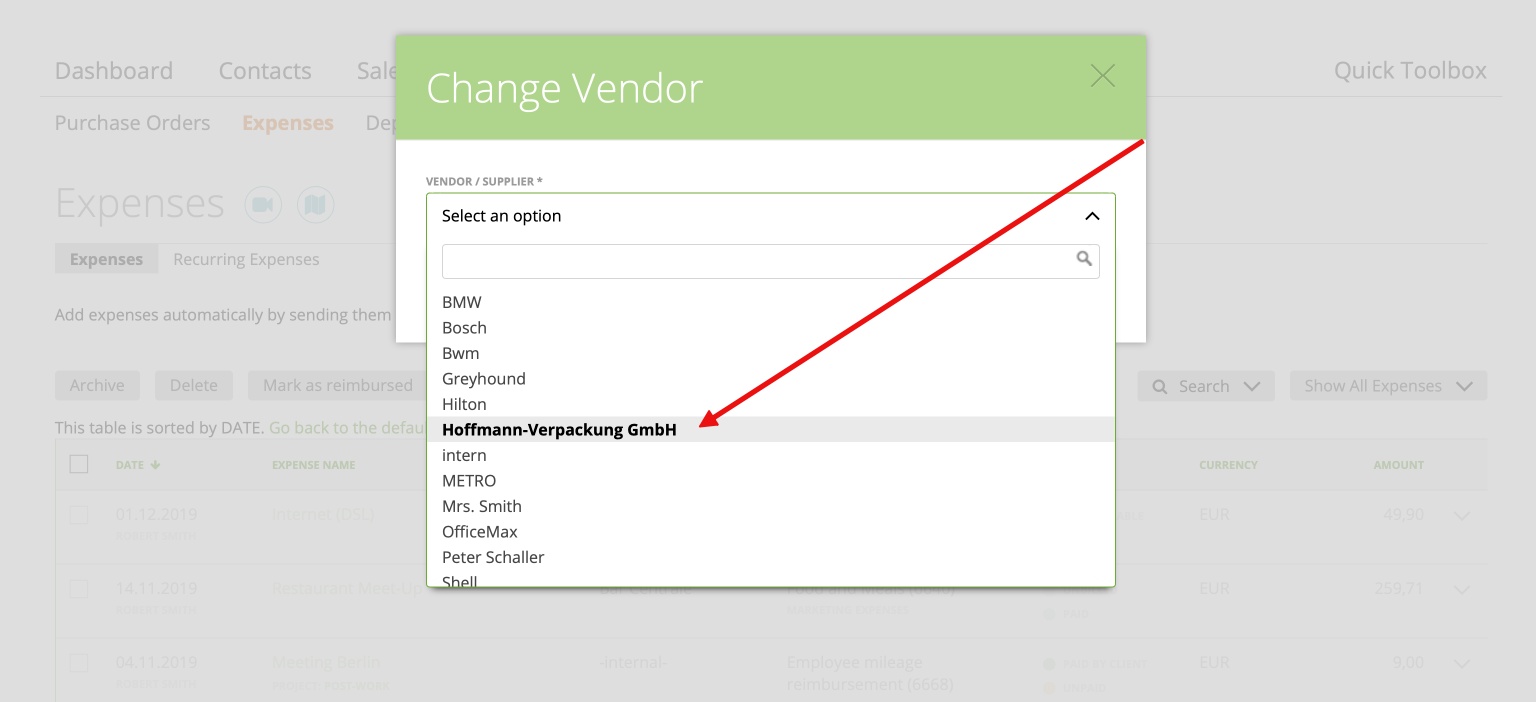 Press "save" and your vendor will change: