Sometimes it can take up to 10 days, until the browser extension is released in the Google Store.
Therefore this article explains how to install the latest zistemo browser extension bypassing Chrome Web Store where it could be outdated.
Recently, developers (including us) have encountered a problem that while updating their browser extension, Google delayed release due to a manual review process. This can take several days or even weeks. We are not able to somehow speedup this process, therefore, we are working on various alternative backup options that will allow our customers, if necessary, to have a workable version of our browser extension.
Go to "Chrome Extensions" settings (Chrome > Preferences > Extensions or type chrome://extensions in your address bar)
Remove an existing zistemo extension, if you have one
Enable "Developer mode"
You should see the zistemo extension enabled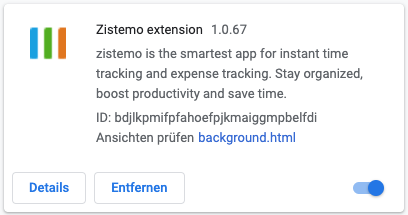 Please log in to the browser extension with your subdomain, email and password