In Switzerland there are specific regulations for overtime. The maximum working hours are the agreed working hours regarding to your employment contract + overtime. Extra overtime are all hours further to your maximum working hours:

You can use extra overtime if your company is located in Switzerland and if you are using the attendance time module by activating "Use extra overtime report for Switzerland":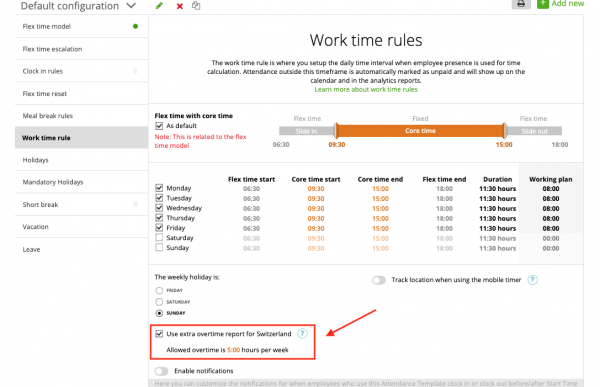 Please enter here the allowed overtime per week. If your weekly overtime is more than these hours, it will be added as extra overtime. Please note that if you are working less hours than your working plan firstly, it will remove time from the extra-overtime.
Example:
Working plan per week: 40:00 hours
Allowed overtime per week: 5:00 hours.
Worked hours week 1: 47:30 hours => 5:00 hours overtime || 2:30 hours extra-overtime
Worked hours week 2: 39:00 hours => 5:00 hours overtime || 1:30 hours extra-overtime (2:30hrs – 1:00hrs)
You can see the extra overtime on the staff grid…

… or on the attendance monitor: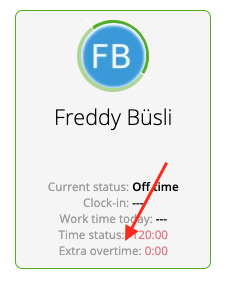 You also can see the extra overtime on the attendance report: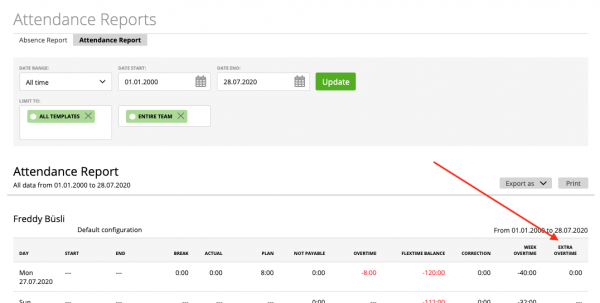 How to reset Extra-Overtime
The extra-overtime account will be reseted together with the flex-time balance. If you want to know more about the flex time reset click here.