To create a project, go to Time & Projects ➝ Projects ➝ Create New Project

Project data
When you open the project page, you can see the following data and customization:
– Project number – an internal number for this project. This field is required (more about default Project Number format here);


– Project name;
– Description – additional notes;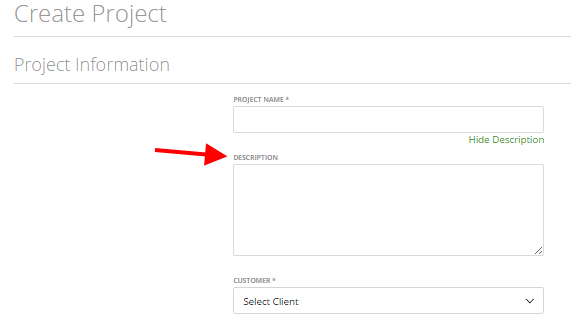 – Client – the client for whom this project was created: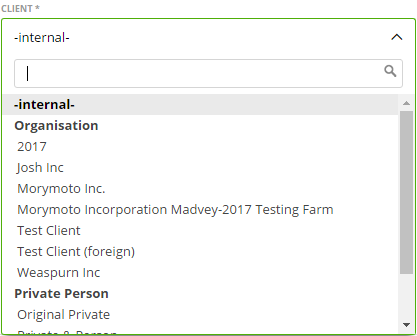 – Link to estimate – assigned estimate or the estimate on which the project is based.
(Time & Projects ➝ Projects ➝ in the drop-down menu, the button 'Create an estimate' OR
Sales ➝ Estimates ➝ in the drop-down menu, the button 'Convert to Project);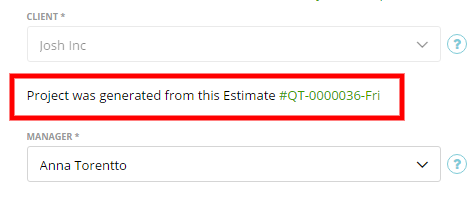 – Manager – the staff member who has access to manage this project (update, delete, assign staff members, tasks).  If the manager has a lead access (lead access can be chosen from the Staff page), he/she will be able to review timesheets of other project members: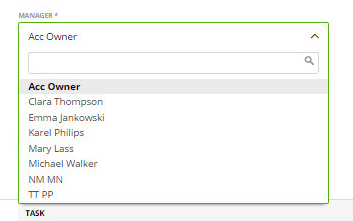 – Billing method – how the project price will be calculated and invoiced;


– Project budget – info data, forecast project price;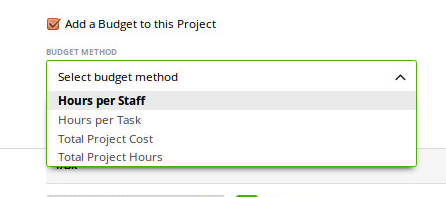 – Project ID for Invoice Prefix – project invoice prefix – each invoice related to this project will have numbers with this prefix. (More here):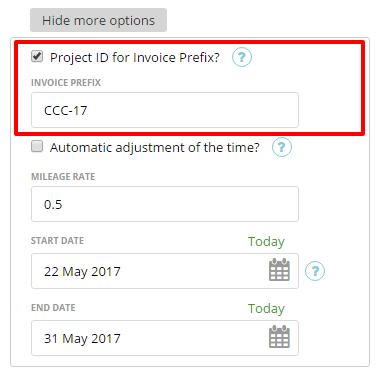 – Automatic adjustment of the time – this gives you the option to round the hours logged with the timer (More here):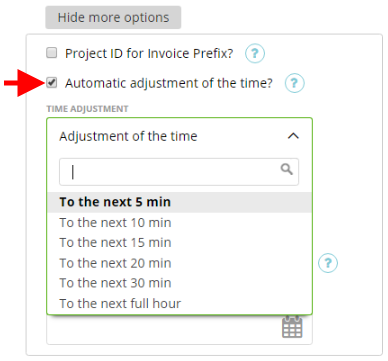 – Project Contact – choose one of the client contacts who will receive invoices related to this project: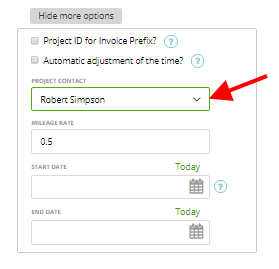 – Mileage rate. On the Project creation page, we use the default mileage rate. You can change this mileage rate straight from here, or you can go to Settings ➝ Preferences ➝ Mileage. This is the mileage rate that will be used when creating the mileage (more about this here):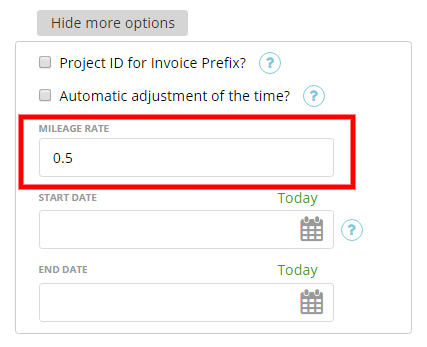 – Start date ➝ end date – info data, the scheduled period of the project: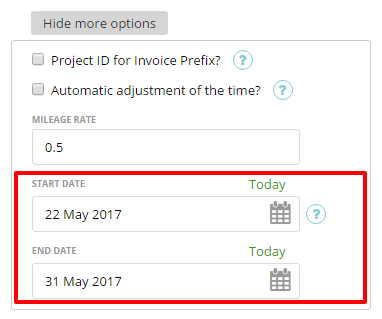 – Tasks – assigned tasks that should be completed during the project. You can choose tasks for the project from the existing task list or by creating a new task:

Or you can click 'remove all tasks' if you don't need anything from the list and add what's needed:

Also, if the list of the tasks is huge and to find the needed one is hard, you can just put one letter in the search folder and the system will find it for you, see the video:
– Staff – assigned staff members who will work on this project:

Advanced Details
Documents
In this section you can upload and attach documents related to the project. The "Upload file" link allows you to upload a file from your computer:

The "Choose an existing file from your file folder" link allows you to attach a file from you "Document Space":

After uploading and attaching the files, they will appear in the list, including the option to delete them.

Project Custom Fields
Learn about project custom fields is available here →
Project Escalation Rules
Learn more about Project Escalation Rules →
Scheduler
On the scheduler tab on advanced project settings you can edit the project color on the scheduler and you can mark all time tickets on the scheduler as tentative/unmark as tentative. 

If the project as already planned time tickets on the scheduler and you mark/unmark as tentative, all time tickets on the scheduler will be overwritten. But you'll see a notification and need to conform if that's the case.