On each Recurring Invoice Profile you will find a very helpful option –  'Include unbilled time and expenses':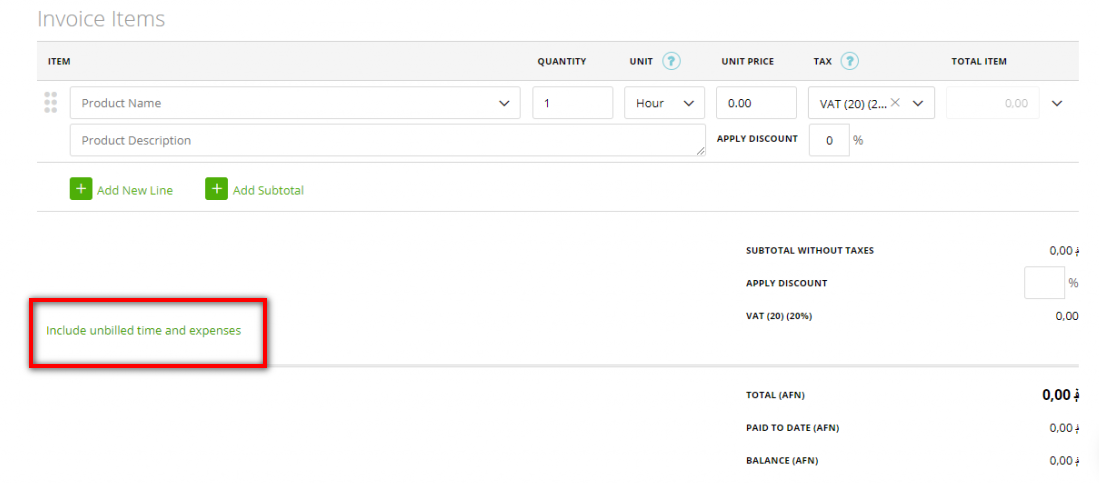 This feature allows you to automatically include all new timesheets and expenses (related to your invoiced client) to the recurring invoices.
The 'Include unbilled timesheets and expenses' window has 4 simple parts, as you can see below:

1. Add time entries
Here you can choose the project/projects which time entries you want to add to the recurring invoices. In other words, each new invoice will automatically include new unbilled time spent working on the project you are billing.
You also can choose 'Projects created in the future' – in this case, the invoices will incorporate the time from all the projects that will be created in the future (according to the recurring invoice profile):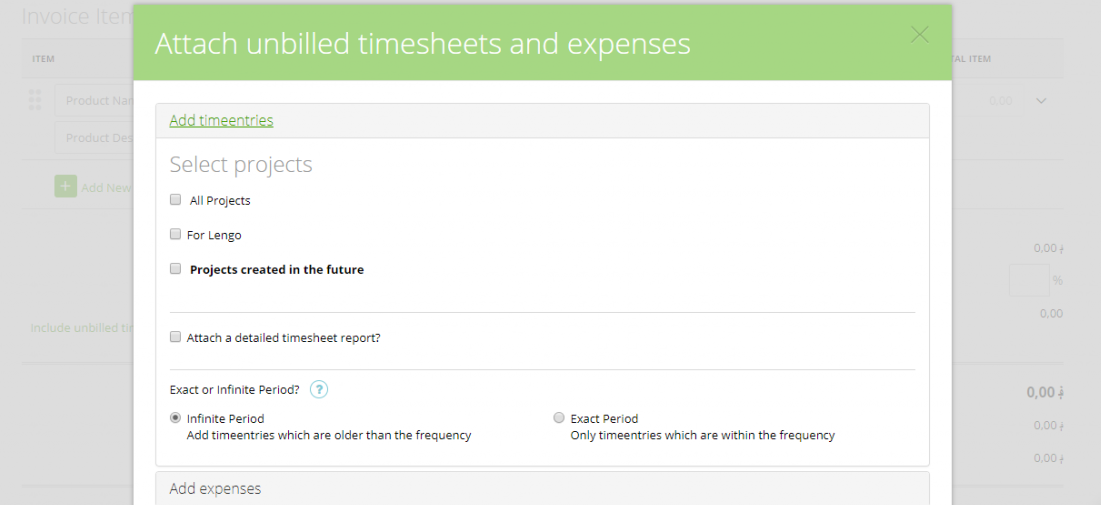 Check 'Attach a detailed timesheet report' to include the project time report for each invoice. This report shows all time logged – date of time, project, task, time notes, amount of hours and totals.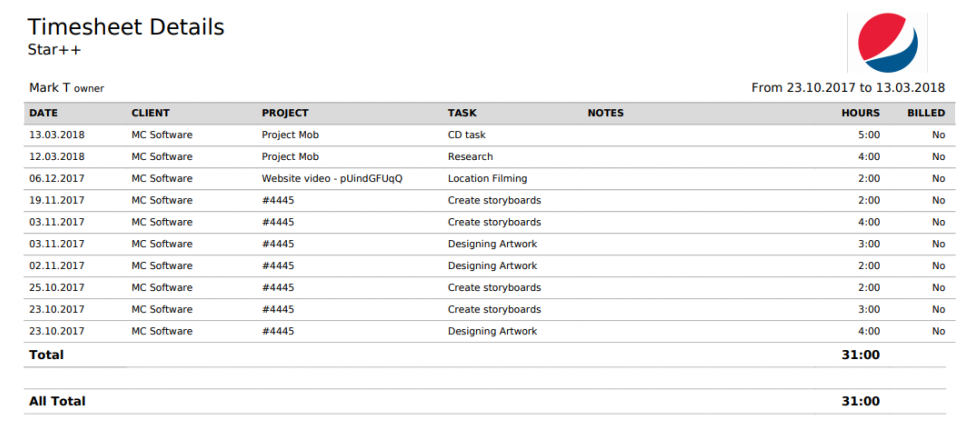 Exact or Infinite Period?
If you choose 'Infinite period' – the first recurring invoice will include all time entries older then the start day of the Recurring Invoice Profile.
If you choose the 'Exact period' – the first invoice will include time entries older than the start day but not older than one frequency period:

Reminder: You can choose here the start day ('First period') and the frequency: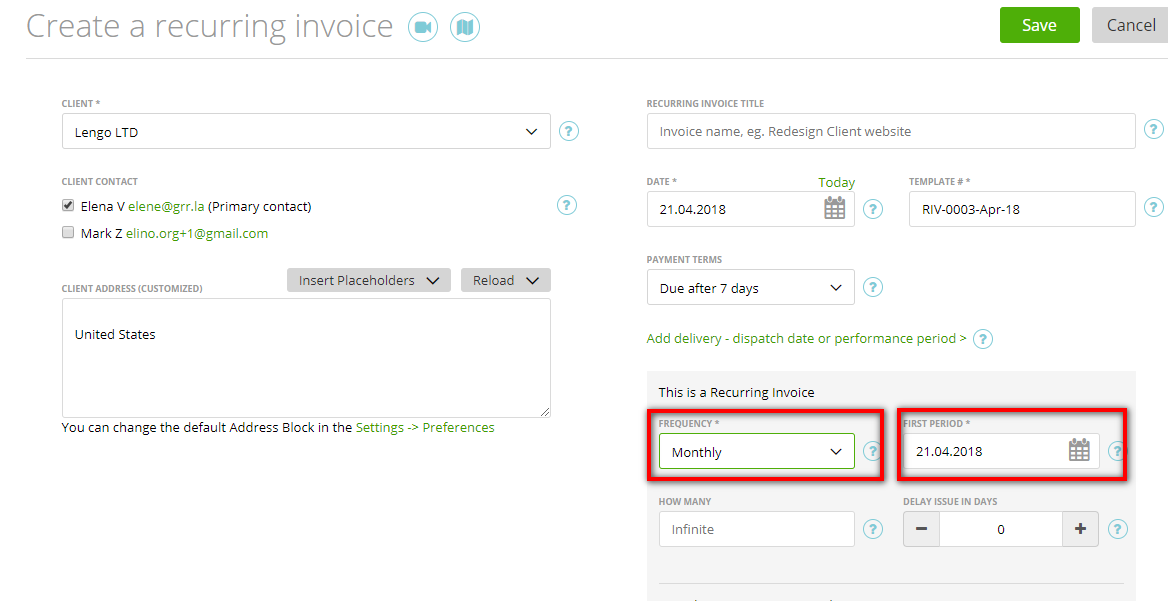 Always remember to choose 'Delay issues in days' – if you need to approve time entries before including them in the invoices:

2. Add expenses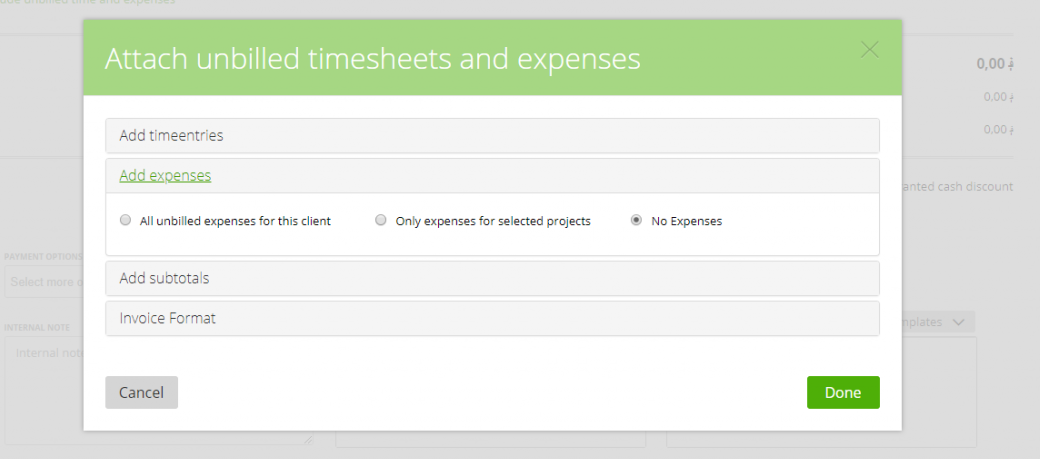 Here you can choose 'All unbilled expenses for this client' and your invoices will include all the expenses related to this client and not invoiced yet.
'Only expenses for selected projects' – invoices will include unbilled expenses assigned to projects that you have chosen in the section 'Add time entries'.
'No expenses' – invoices will not include expenses related to the client.
3. Add subtotals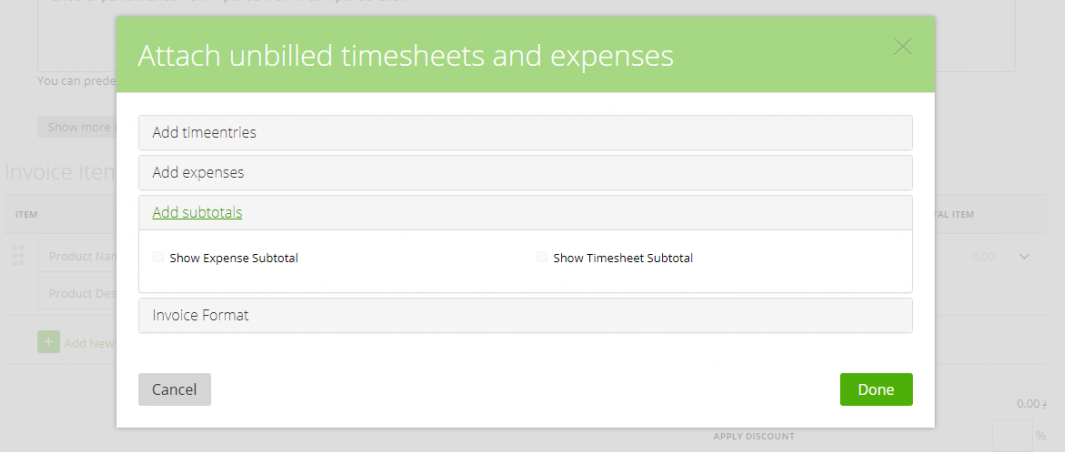 Choose this option if you want to calculate separate subtotals for expenses and timesheets. More about subtotals here.
4. Invoice format
Here you can group the timesheet information featured on the invoices. Read more here.