ZUGFeRD is an abbreviation for »Zentraler User Guide des Forum elektronische Rechnung Deutschland«.
The goal of ZUGFeRD is to enable electronic invoice exchange including structured data in the public and private sectors. However, unlike existing standards like EDI it is not only targeted at large organizations, but also small and medium-sized businesses as well as freelancers.
ZUGFeRD invoices do not require prior arrangements between sender and receiver and are not specific to any particular industry sector.
It is planned to create a German, Austrian and Swiss (DACH) national standard (DIN) based on ZUGFeRD. Looking forward it is desired to introduce a new work item for creating a European standard (CEN).
Lean more about ZUGFeRD 
NOTE: This Invoice format is available only for our German, Swiss and Austrian customers (your company needs to be registered in zistemo in one of these countries).
If you always want to send your invoices as ZUGFeRD Comfort Format than enable on the Settings -> Preferences the option "Send Invoices as ZUGFeRD PDF Format"
When sending an Invoice, the format is always ZUGFeRD 2.1.1 (ZUGFeRD-COMFORT/EN16931-Profile)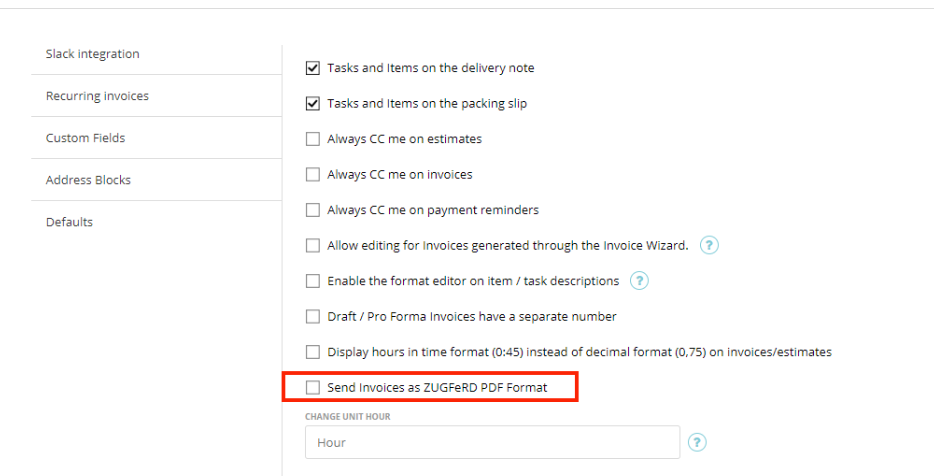 If you don't want to send your invoices always in the ZUGFeRD Comfort Format but just for special Clients, you are able to create the invoice as ZUGFeRD Format if you click on the line end menu on the download ZUGFeRD PDF menu item.