About HR Admin
The HR Admin's Permissions
About HR Admin
We are happy to present you a new role called HR Admin. An HR Admin can manage your staff members and teams, and can also create/read/update/delete members – except the account owner role.
So if you'd like to assign someone an HR Admin Role, go to Contacts -> Staff -> Pick the Staff Member you need: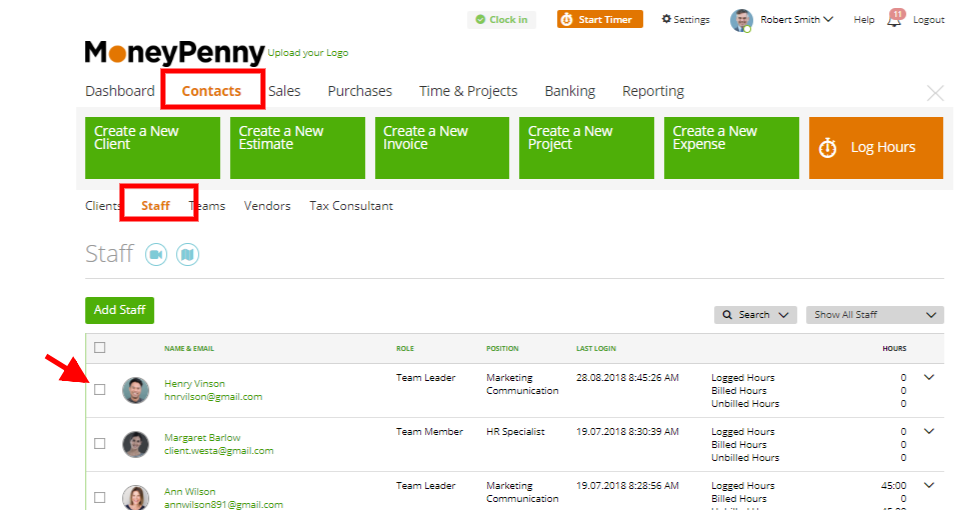 In the Staff Details' area choose the HR Team from the drop-down, and HR Admin under the role. Don't forget to press save: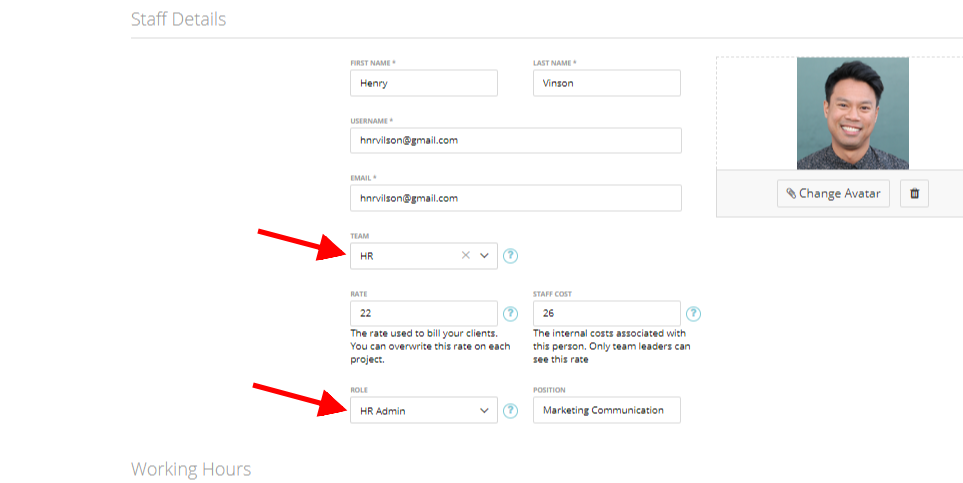 This is how the Dashboard will look like for your HR Admin: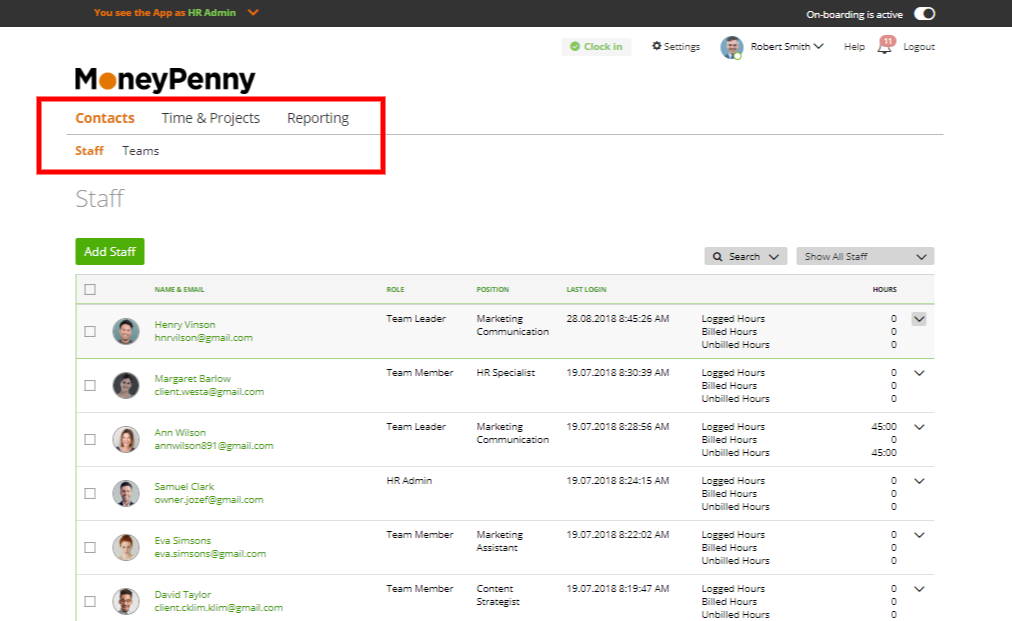 The HR Admin can work with the Attendance options, is able to create/read/update/delete and can assign the attendance templates to the staff/team. An HR Admin also has to view access only to the following Attendance reports: the Absence Report and the Attendance Report.
Note: The HR Admin cannot track the time and he can't be assigned to any projects.
The HR Admin's Permissions
An HR Admin is able to create (invite) or modify (deactivate) Teams and Staff Members: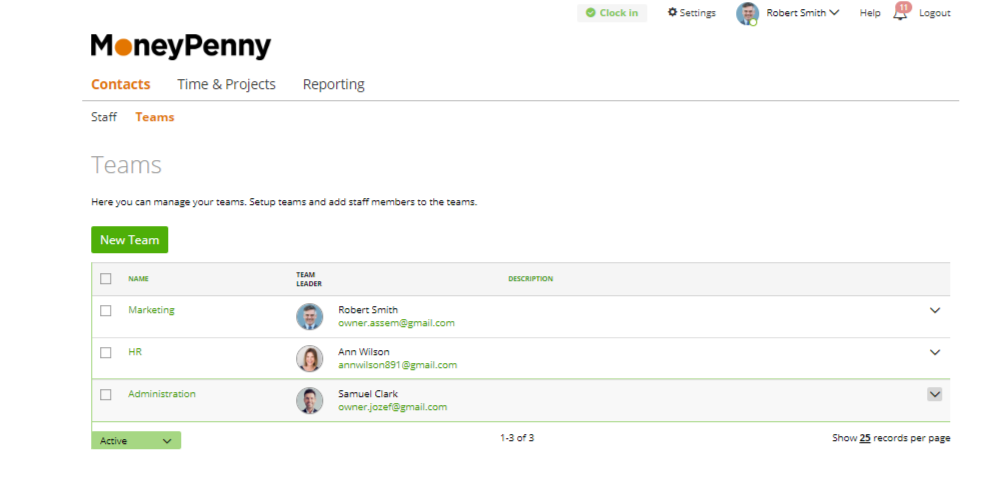 They can manage the Staff from Attendance screen and the Department Calendar by viewing who's on stage and who's on vacation.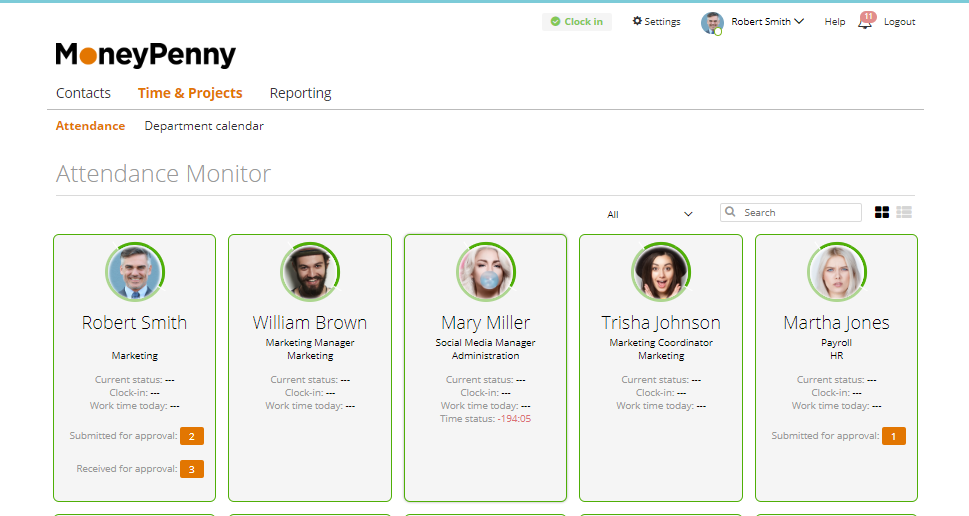 HR Admin can approve or reject vacations, add the leave documents to the Staff's profiles. In order to do so, just click on the Staff's name you'd like to view  (manage) – see the screenshot above –  and the person's profile will open. From this screen, an HR Admin can work with the Staff Member's Attendance (vacations, leave, etc).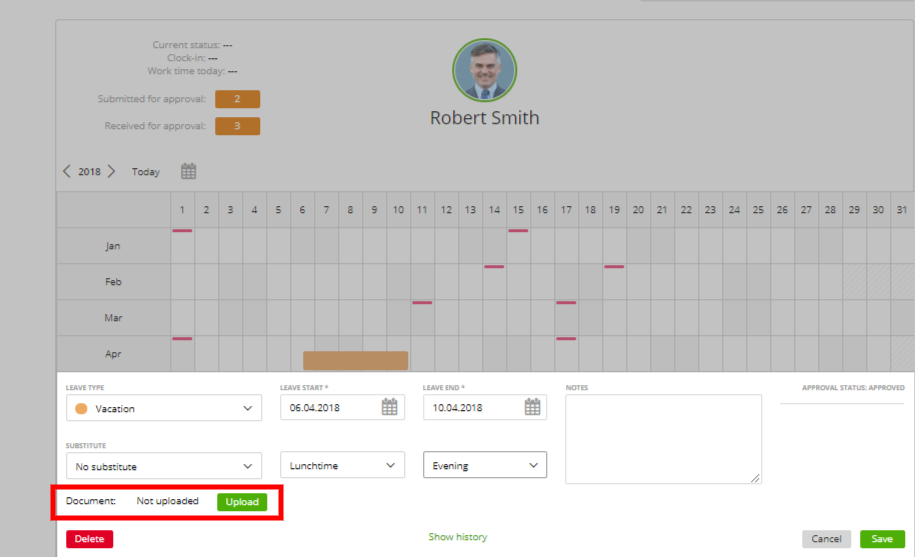 On the Reporting Page, the HR Admin also has access to 2 types of reports – the Absence Report and the Attendance Report. They can export it as PDF, Excel or print it if needed.
Note: The HR Admin cannot change the account owner roles – this is only allowed to admins and account owners.
HR Admin on Project Tracking
The HR-Admin role does not have any permissions on project tracking. HR-Admins even don't can track time to projects since HR-Admins used to work exclusively on internal (non-billable) tasks. However, in your company HR-Admins should also track their time.
To do so, please change for that user the role from HR-Admin to Admin. After that, you can customize the access of that user by Hide Main Menu Points.