Client's Dashboard Overview
The 'Transactions' Tab
The 'Projects' Tab
The 'Client Activity' Tab
The 'Retainers' Tab
The 'Messages' Tab
Client's Dashboard Overview
You can review the relevant information and reports related to a specific client on the Client's Dashboard. Just click on the Client's name on the list: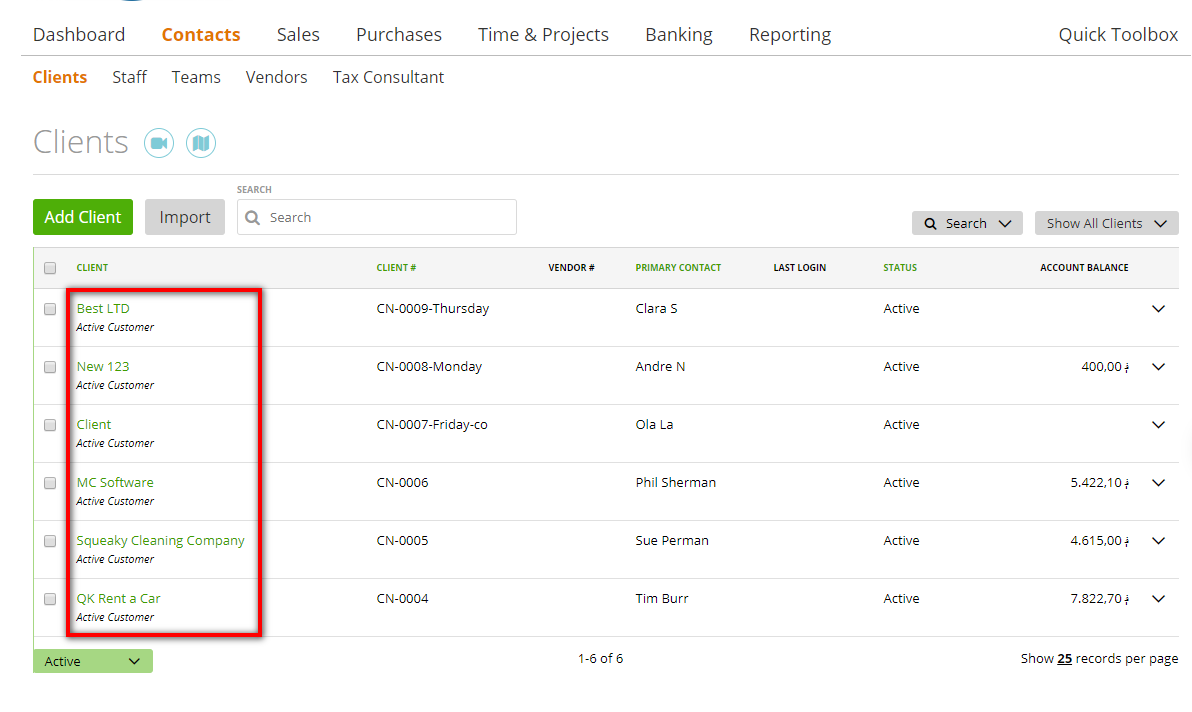 The 'Client Overview' tab:

On the left side you can see the following general information about your client:
– Active since – The date when the client was created
– Currency – The default currency which is used on invoices/estimates/retainers generated for this client
– Language – The default language of documents (invoices/estimates/retainers) related to this client
– Payment terms – The default period of invoices – after this time an invoice becomes 'overdue'
– Lifetime value, Expenses, Fee, Net Revenue, Staff Cost, Client Profit – Read about these parameters here
– Retainer – The value of retainers created for this client. More details on retainers are available in this article.
– Active Projects – Projects created for this client.
On the right side, you can see various reports, graphs, and diagrams, such as:
– Key Performance Indicators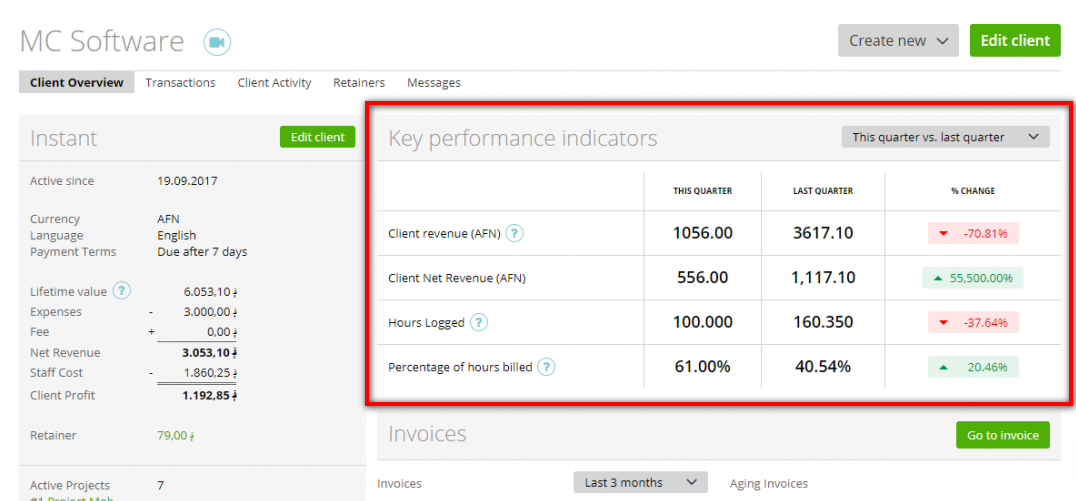 See the progress and the difference between the current and the previous period.
It's showing you the following:
the Client's Revenue (the amount of all invoices created and send to the client)
 the Client's Net Revenue (=Client Revenue – Expenses + Fees), Hours Logged (hours logged by staff members to all projects related to this client)
Percentage of Hours Billed (percentage of invoiced (billed) hours vs. total logged hours)
Important Note: In the third column you see '% change' which is calculated as:

– Invoices
Take a look at the total value of the invoices sent to this client, as well as the ones he paid and the balance. Also, here you can see the value of overdue invoices grouped by periods and the percentage of paid invoices from the total of invoices sent (featured in a nice, simple diagram):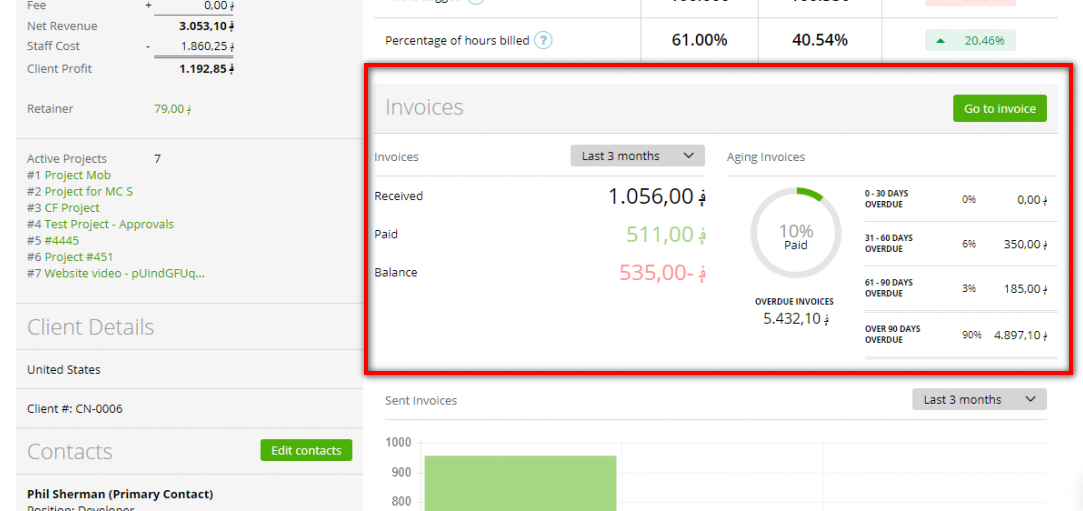 – Sent invoices
The visual difference between actual (yellow), overdue (red) and paid (green) invoices: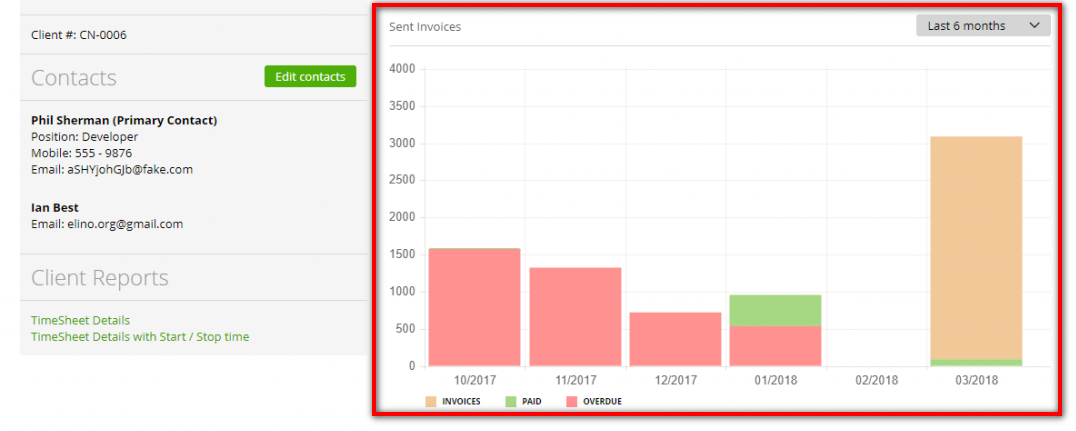 The 'Transactions' Tab
Here you can see all invoices created for this client and all payments made by the client. You can quickly review any invoice or a payment by just clicking on its' name.

The 'Projects' Tab
In the Projects Tab, you can see all Projects from the Client. You can also sort after "active", "archived" or "deleted".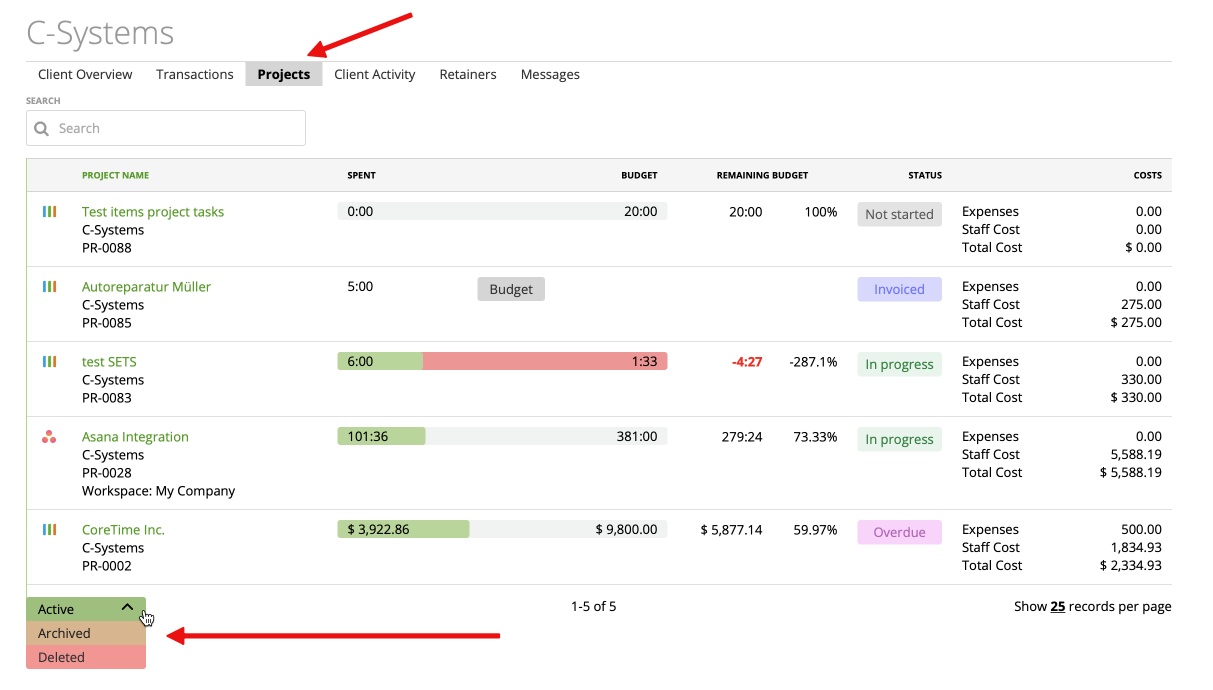 The 'Client Activity' Tab
A tab that displays all the invoices and estimates created for this client. If you wish to find out more about one document, click on its' line and you'll see the history.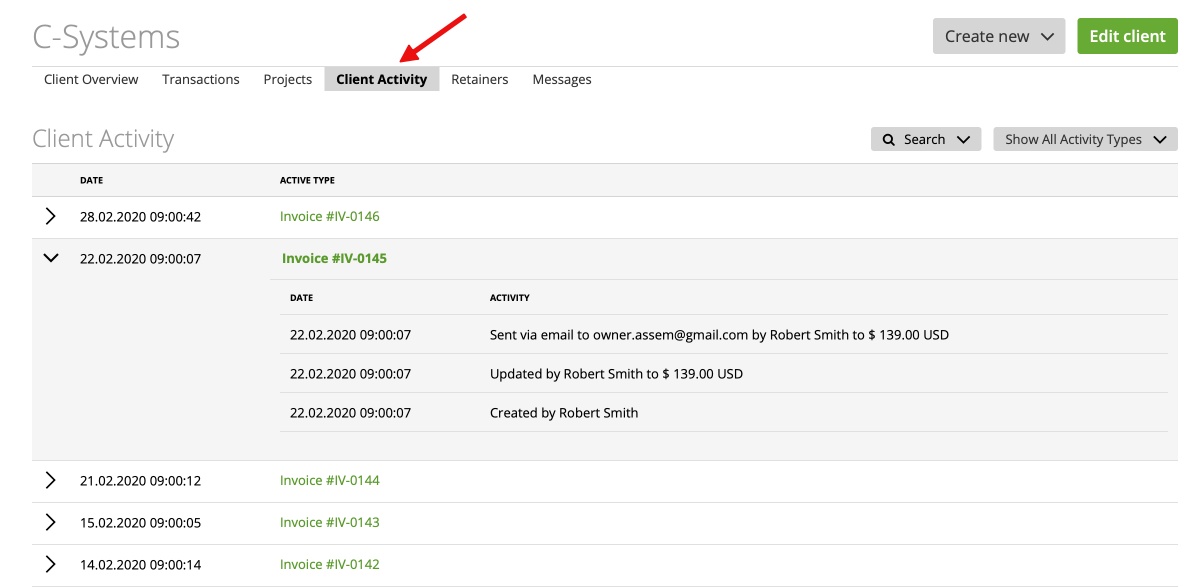 The 'Retainers' Tab
It's where you can see all the retainers created for this client – as mentioned before, just click on any line to access the document history.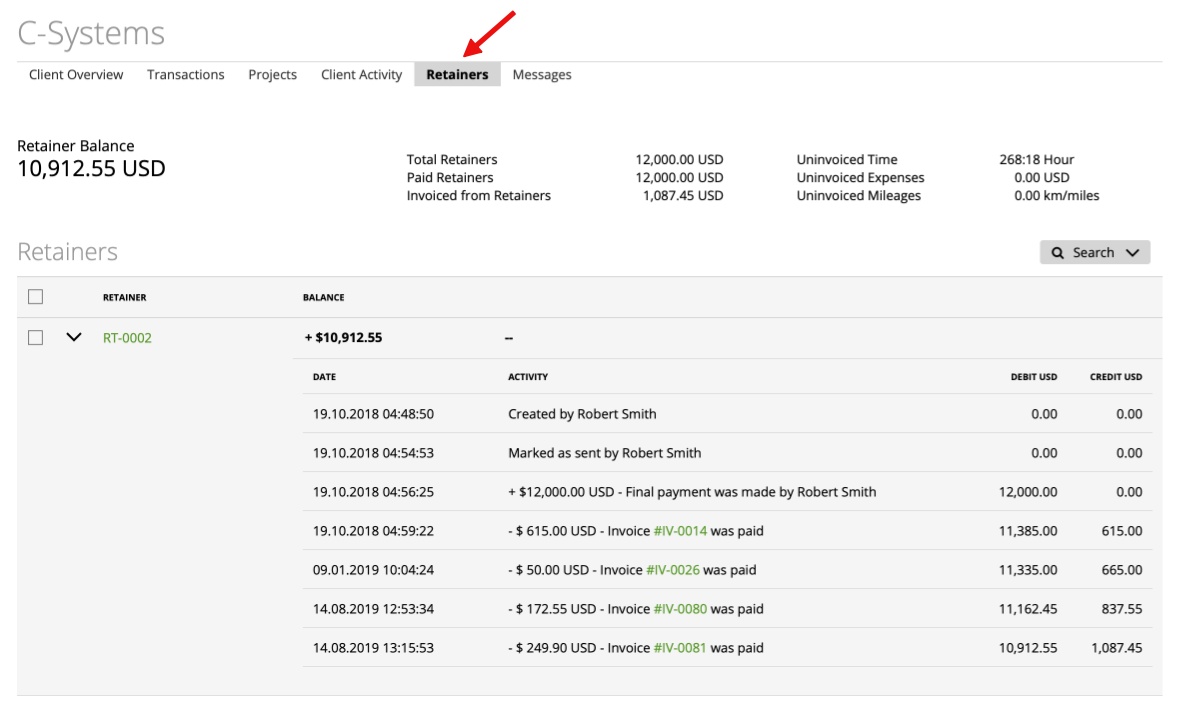 The 'Messages' Tab
This is a full display of your communication with the client on invoices/estimates, for instance, if the client opened a dispute on an invoice or replied to an estimate you sent (learn more from here).