Reporting groups can be used if you want to search for group of users in the reporting that cannot be groups by zistemo user roles, teams etc. Therefore, you can create your own reporting groups to apply filters for them. Let's say you are a functional manager and you want to review the approvals of the person who are reporting to you. For that, you can create your personal reporting groups. Just go to your profile and then to reporting groups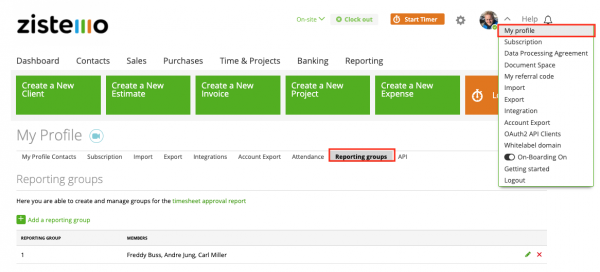 If you click on add reporting group you can select the employees that you want to have in your reporting group.

You can select the reporting groups in the reportings.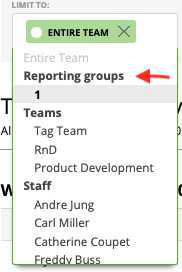 Reports where you can apply Reporting Groups
Accounting Reports

Cost Report
Private Mileage Report

Client Reports
Time Tracking Reports

Timesheet Details
Task Summary
User Summary
Absenteeism Report
Project Hours
User Presence
Team Report
Timesheet Approvals

Attendance Reports

Absence Report
Attendance Report
Vacation Overview

Project Reports