With zistemo, you can create timesheets manually, but you can also import them from a .CSV file.
Just go to the "Import" link in the header menu,

choose "Import Timesheets" and click "Import":

Next, you can click on the "sample file" link and download an example of the .csv file. Now you will know how it would look like and it will help you to prevent mistakes.

Choose your file and click "Upload File".

On the next page, you can easily preview changes or see which timesheets cannot be imported because of errors.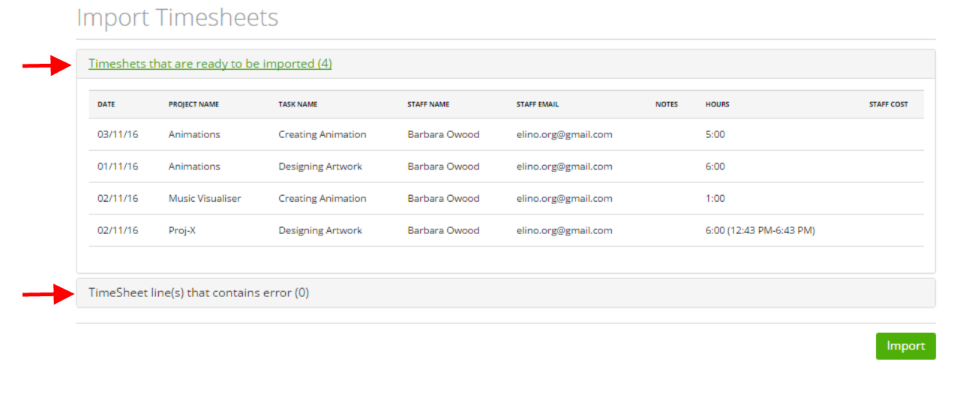 After clicking "Import", the imported timesheets will appear in the calendar: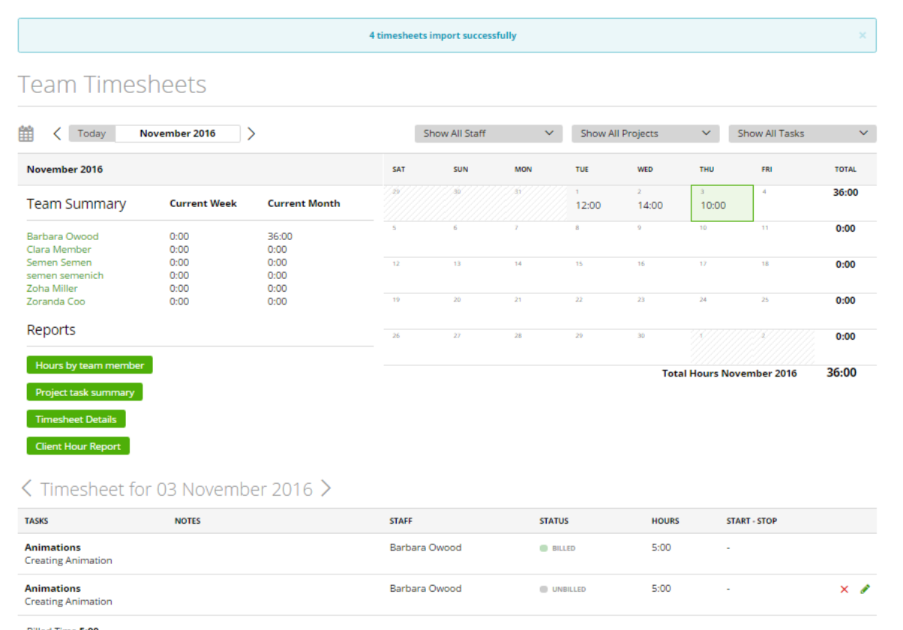 Very important:
If you import timesheets for a staff member that doesn't exist in your staff list – this member will be added automatically after timesheets importing. The same goes for a project/task that doesn't exist – it will be created automatically.
About the .CSV file
Your .CSV file should include some mandatory data, such as Project Name, Task Name, Staff Email and Hours, otherwise, you will not be able to import this file and will see the following error:

The date isn't required, but if its column is empty, the current date will be considered.
Please note that only the first line of your .CSV should include the date. If it's not there, the file cannot be imported:

The Staff's E-mail Address is required and should be unique. Therefore, if your .CSV file includes an email address which already exists in your zistemo account, the hours on these timesheets will be identified as hours attributed to the team member who owns this email.
In case the timesheet line only has:
– Start Time and Total Hours, the End Time will be calculated automatically by zistemo;
– End Time and Total Hours, the Start Time will be generated automatically by zistemo;
– Start Time and End Time, the Total Hours will be filled automatically by zistemo.

If some specific timesheet records have already been imported into the zistemo system, you cannot import them again:

Note: For timesheets that have more than 9000 records (lines) the importing process of the .CSV file can take 1-3 mins.