Default Fonts
Variable Strings
Document Names
Welcome Messages
Client/Vendor numbers for datev export
Cancel invoice
Staff email
In the "Default" settings you can set some iptions, which you would love to have on default how you want them.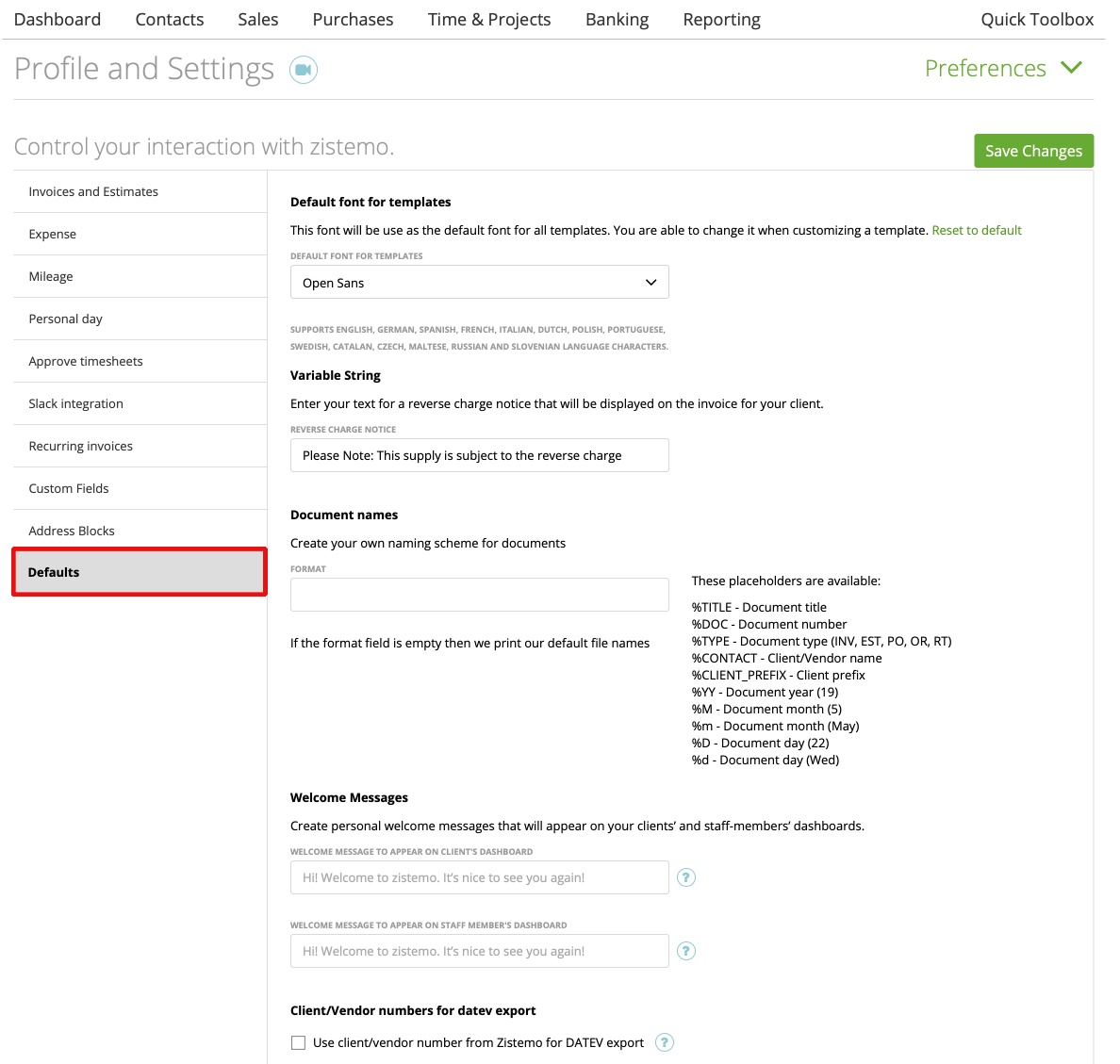 Default Fonts
The choosen font  will be use as the default font for all templates. You are able to change it when customizing a template.
SUPPORTS ENGLISH, GERMAN, SPANISH, FRENCH, ITALIAN, DUTCH, POLISH, PORTUGUESE, SWEDISH, CATALAN, CZECH, MALTESE, RUSSIAN AND SLOVENIAN LANGUAGE CHARACTERS.
Variable Strings
Enter your text for a reverse charge notice that will be displayed on the invoice for your client.
Also, you can enter a custom text that will be shown on the balanced invoice that was cleared with a down payment (retainer). Make sure that you are using the placeholder for the retainer (::retainer number::) so, that you cleint know exactly with retainer/down payment you referring to.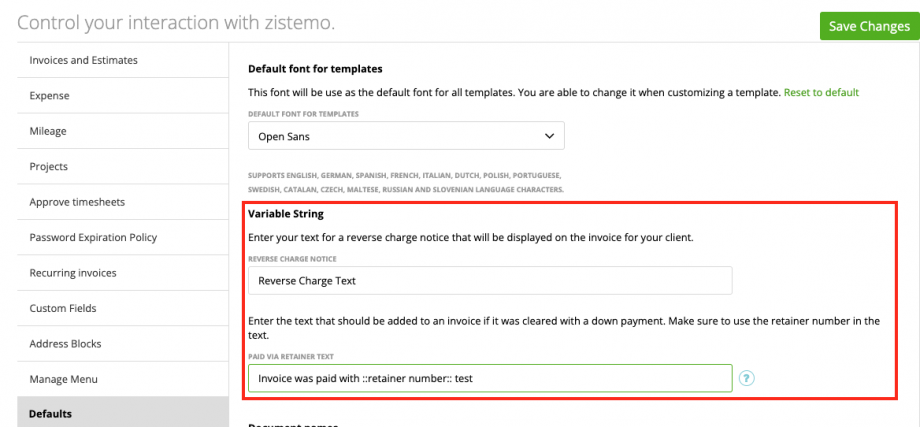 Document Names
Create your own naming scheme for documents. Use the placeholder input field to generate your own document names. It will work for all system related documents.
NOTE: Zistemo uses webbased (latin) characters, therefore Zistemo ignores non-latin characters when customizing document names.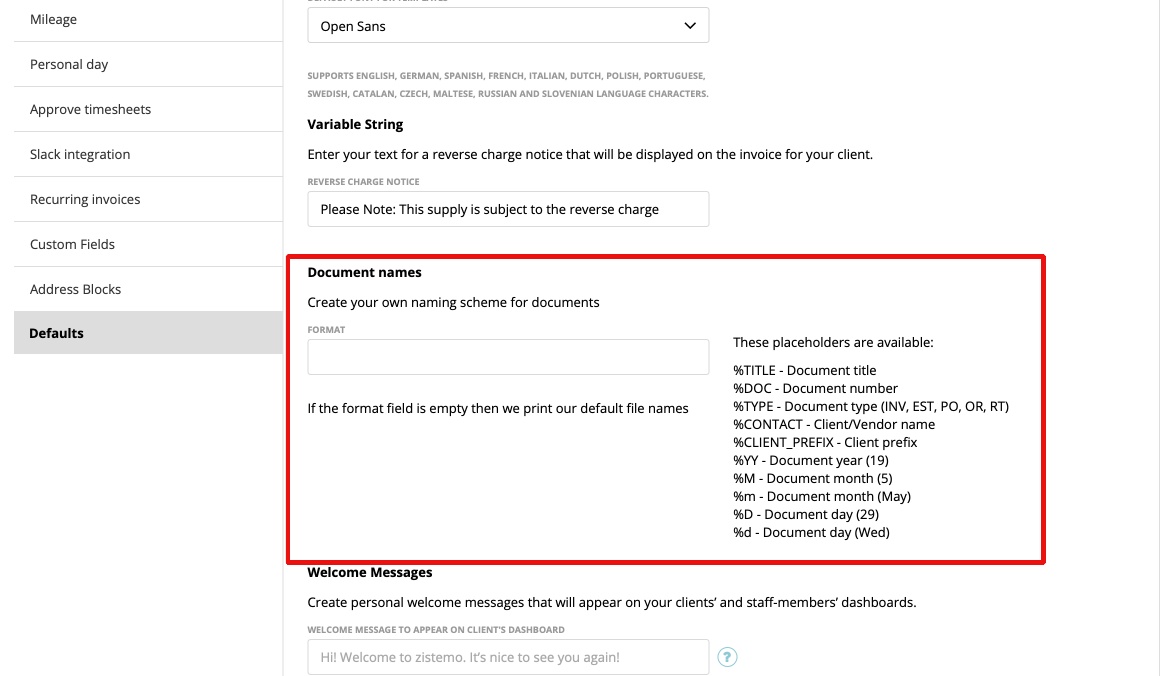 For example: If you use the placeholder "%DOX-%CONTACT-%m%YY", it will be shown as: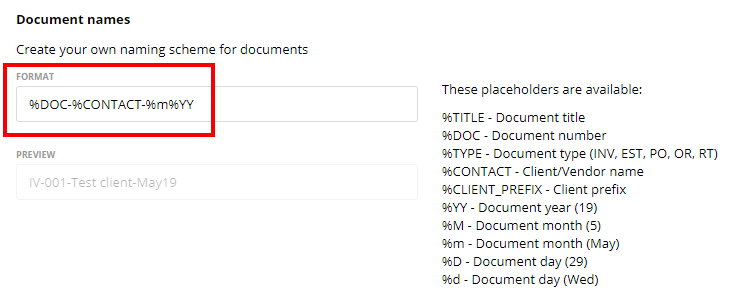 If you save as pdf, print or send the document to the client, it will include your individuell document name. Your documents will show up like this system-wide.
Note: If the format field is empty then we print our default file names
Welcome Messages
Create personal welcome messages that will appear on your clients' and staff-members' dashboards.
Client/Vendor numbers for datev export
If you activate this function you will see on the client/vendor export for DATEV the client/vendor number from zistemo.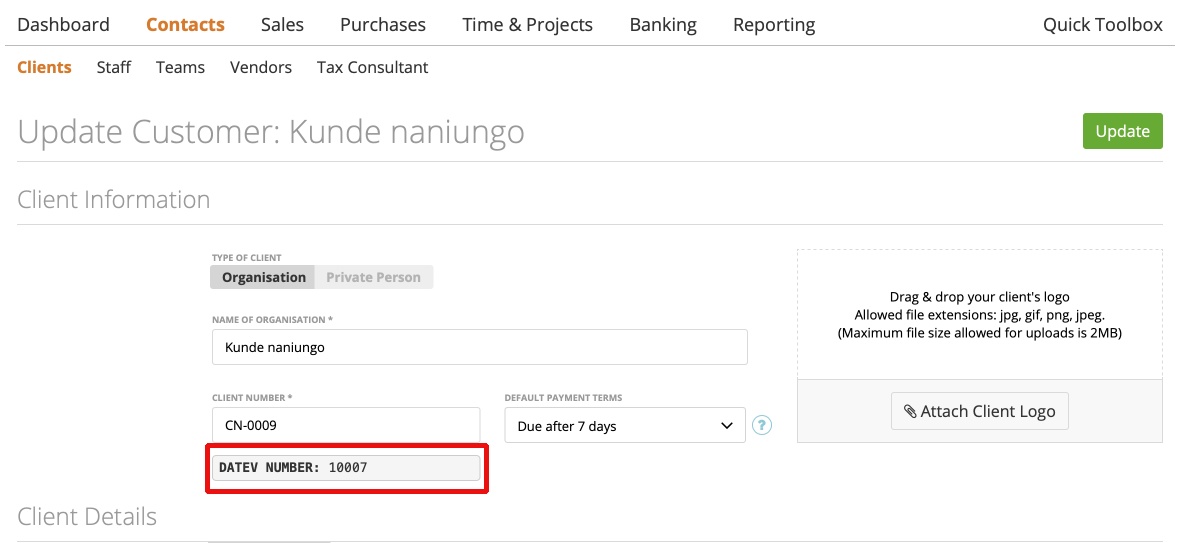 If you want to change the "DATEV Number", you have to import the Client/Vendor Number via the DATEV import. More infos HERE.
Cancel invoice
Change the word that will be added when creating a cancel invoice. Choose if it should be added in the beginning of the invoice number (prefix) or at the end of the invoice number (suffix).

If you choose "Prefix", your Invoice "text" will be shown IN FRONT of the IV-Number:

You can also choose "suffix":

If you choose "Suffix", your Invoice "text" will be shown AFTER the IV-Number:

Staff Email


If active, staff members can no longer change their own email address by themself. This has effect to non-admin users. All Admins and Account Owner can change their own email address and others.
Notify if user is assigned to a project
You can set up notification for user who are assigned to projects. Learn more